While Westridge's Chamber Orchestra Reconvenes, Wind Players Still Face Challenges to Play
Westridge's Chamber Orchestra has finally reunited after practicing online for over a year due to COVID. Although most of the orchestra are able to reassemble normally, the wind instruments still face challenges, as many of their required safety equipment are currently unavailable.  
All students are required to wear masks indoors while playing; however, specific instructions for wind instruments include wearing specialized masks that fully cover the headjoint and footjoint of the instrument in order to contain the spread of saliva and the student's airflow. In addition, students sit six feet apart and doors to the classroom are constantly open in order to maintain proper ventilation and circulation. When practicing, wind players are required to play outside, six feet apart.
These protocols are not just in place at Westridge. Across the country, many orchestras have found similar solutions to save their classes. This, however, creates a very high demand for specialized masks, limiting the supply for Westridge's wind players. Without those masks, wind players are currently unable to play with the orchestra. 
"It is great to be back in person, but it is annoying that the wind players have to wear special masks or play outside separately from the orchestra. Since the gear is not here on time, we are unable to play together until they arrive, which might be a while," said Sarah H. '22, an oboe player. 
"I can imagine it must be pretty disappointing for the winds to not be able to play with the rest of the orchestra until they get their specialized masks," said Claire S. '22, Chamber Orchestra's  concertmaster, "It's definitely not the same playing without them because they have very important parts, so I really hope they can join us soon."
However, COVID protocols not only affected wind players; it was unsure whether the whole Chamber Orchestra would be able to run this year. With the shift from remote learning to on-campus learning, heavy COVID protocols were placed all over campus—many of which applied to the orchestra, due to spit and air flow from the wind players.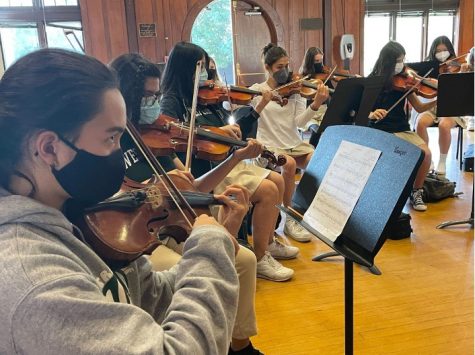 "The good news was when the pandemic began, music teachers at various national organizations, as well as scientists at universities, immediately began studying how air is spread through a wind instrument," explained Ms. Epps, Middle and Upper School Music faculty member, "After coming back to school, I was reviewing those studies and sharing them with the administration and making sure that the decisions we made for our class were in alignment with what is safest for everyone."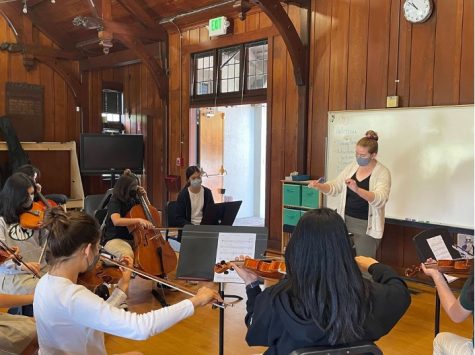 Although Orchestra students are disappointed that not all the wind instruments can participate, many are happy that Orchestra is back in person. "Last year, it was very hard to play live music as a whole as it isn't in sync all the time. But now back at school, it is very nice to hear everyone play and finally have collective pieces to play together as an orchestra," said Crystal Z. '23.
Leave a Comment