Celebrating Juanita's 50 years at Westridge
"What was so fitting was when she came through the door, she walked up to me like she had known me forever," recalled Ms. Lorri Deyer, Upper School History and Ceramics teacher, remembering when she first met Juanita. Juanita's warm aura instantly showed Deyer that she was a kindred spirit. They get along so naturally that Ms. Lorri refers to Juanita as her "West Coast Mama," although Juanita corrects her to aunt.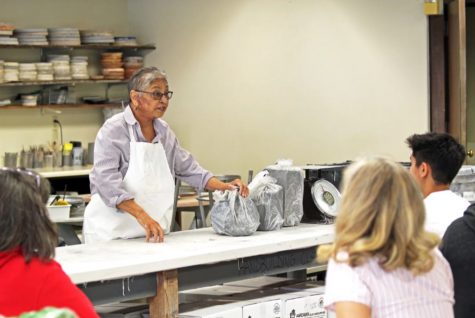 During Juanita's 50 years teaching Ceramics at Westridge, she has touched students and faculty alike with her warmth, kindness and joy for ceramics. Her work not only touched people focused on visual arts, but those interested in a variety of subjects. Juanita's Ceramics class helped one aspiring surgeon who took Ceramics all four years of high school, despite urging from her science teachers to take more Science classes. The student wanted to improve her hand, eye and speed coordination and, Juanita remarked, "She knew she needed to combine these skills together." By working with Juanita, the student was able to practice many skills needed in order to become a surgeon. 
One of the quintessential stories about Juanita is her insistence that students wait until they are able to drive before being allowed to take her wheel class. This wasn't always the case when she taught at Westridge. She amended the rule when she noticed how frustrated freshmen would get in her classes. 
Orla H. '22 first had Juanita her freshman year when she was accidentally put in the wheel class instead of hand building. Although she was first intimidated by Juanita's talent, Orla gradually got to know her over time. "She's very nice and joyful and she loves working with others — and she's good at it too," she noted.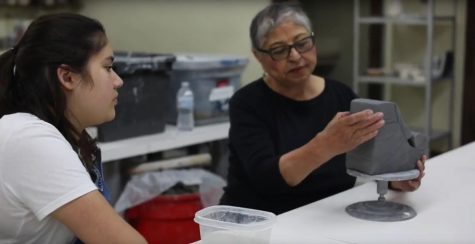 Juanita has many plans for her post-Westridge career. "I will be more free to create my own responsibilities in my studio." She wants to glaze and sell all her demo ceramics projects, which are currently kept in the back room at Westridge. She also makes and sells ceramics ware at her home in Joshua Tree. "That's why I'm retiring, so I can work in my studio and become the ceramic artist I intended to be."
For Juanita, ceramics are part of everything. She remarked, "You can make things out of the earth, and they can be functional and serve a purpose." For Juanita, the ability to create useful things is incredibly powerful.  She listed all the different ways ceramics are used in the world, from plumbing, to cement, to roof tops and tile floors. She said, "I started to realize how much clay is an important material for society."
Leave a Comment
About the Contributor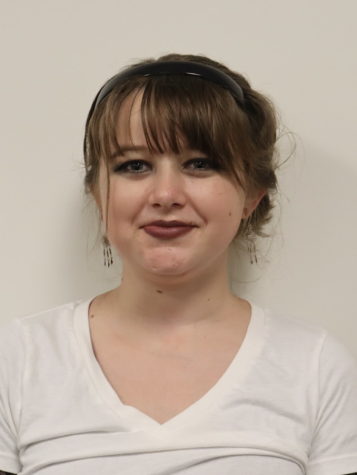 Sabina P., Staff Writer
Sabina is a junior and returns to Spyglass from her year long hiatus. She enjoys the opportunities spyglass gives her to connect and interact with the...