"Going to school…gives me a chance to wear my clothes." Upper School Reflects on Return to Campus
After spending over a year online, Westridge Upper Schoolers finally returned to campus. Although some students have returned to campus for SEL activities and sports conditioning, others haven't seen each other face to face for over a year. Most students were excited to be back and socialize with their friends even through a mask.
"I'm feeling pretty good about being back, it's nice to be on campus and being able to walk around instead of just sitting in a room all day. It's really great to see people again, too," said Rachel K. '24. 
Emery F. '24 agreed. "It's really fun to be back. I kind of hated being in my room alone and seeing people through screens. It's really nice to be able to see and talk to people."
Some students even felt that being at school made them more motivated to get their work done. "I feel a lot more motivated now that I'm somewhere other than my room," commented Cyana L. '24. 
Even so, most students felt that it was difficult to socialize after being inside for so long. "I love seeing people, but I feel really awkward talking to them. I feel like it's definitely gotten a lot harder to socialize," said Bellamy S. '24. 
"
Somehow the masks make it harder to socialize…"
— Emery F.
Feeling awkward is not an uncommon thing during the transition between online and in-person school. According to Craig Haney, a professor of psychology at the University of California, Santa Cruz, lack of everyday social interactions over the course of the pandemic and quarantine could result in many people feeling socially awkward and anxious as schools and workplaces start to open up.
Furthermore, according to the American Psychological Association, social deprivation is "a lack of adequate opportunity for social experience," which is exactly what students have had to deal with throughout online learning. Haney says that one of the consequences of social deprivation is a decreased ability to relate to other people, which is why many students feel like it's harder to socialize now. Even for teachers, being back in person has been different and difficult to adjust to. "[Being in person] is a shift that's definitely going to take some getting used to. I was so excited to be back and to see people, but then I would get home and be so tired because my body and mind are still adjusting," noted Julia Davis, Middle & Upper School Theatre teacher.
Emery F. agreed. "I think the social part is definitely hard…somehow the masks make it harder to socialize."
Madeleine G. '24, a new student, feels that although it can be difficult to meet classmates, "it has been really great for me to get to know the rest of the campus and my other classmates."
Even though socializing can definitely be difficult in the beginning, most students agreed that over time, they have been getting used to it and being in-person has become less exhausting.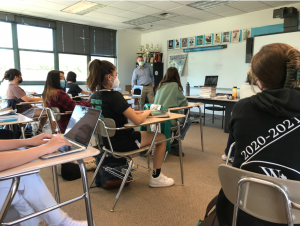 For some teachers, being online actually helped to increase interaction and collaborations between colleagues they normally wouldn't see. "[Being in a] virtual world has actually provided so many more opportunities to speak with my colleagues and to collaborate," said Davis. And now they actually get to see those colleagues in person and finally meet new friends face to face.
Even though students were happy to be back, they all agreed that it would take some getting used to after doing online school for over a year. "I'm kind of nervous to take tests and quizzes in person, because that's never been my strong suit," said Bellamy S.
"
[Over the weekend] I find myself waiting for the next time I can go to school…"
— Erin L.
Even the transition from sitting in your room in pajama pants and oversized T-shirts to putting effort in your appearance has been difficult. But for Erin L. '24, it is a welcome change. "Going to school also gives me a chance to wear my clothes and get more books from the library." 
Another casualty of online learning — in addition to the distance from their peers and teachers — was the distance from the actual campus.  So much of the campus is part of the cultural life of Westridge.  That sense of place and its relationship to experience was severed during remote learning or vacant for those who never set foot on to campus prior to this April.  "In-person school has also made me a lot closer with Westridge as a whole, and I am very happy and lucky to be here." continued Madeleine.
Most students and faculty were ecstatic to be back to some form of "normal" and to see their colleagues and peers again. Even though getting used to in-person school can be exhausting, many felt that being back to school is worth it. "[Over the weekend] I find myself waiting for the next time I can go to school," commented Erin L.
Leave a Comment
About the Contributors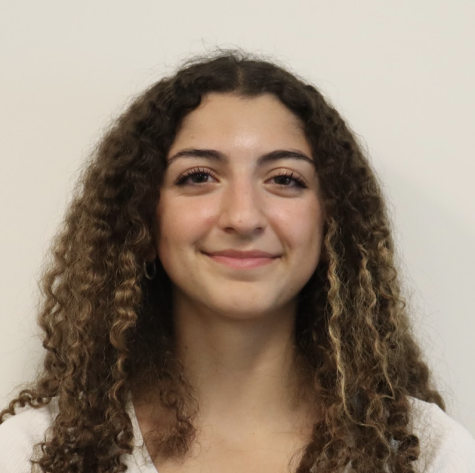 Daria H., Editor
Daria is a junior. This is her third year on Spyglass and second as an editor. Outside of Spyglass, you can find her reading, studying in coffee shops,...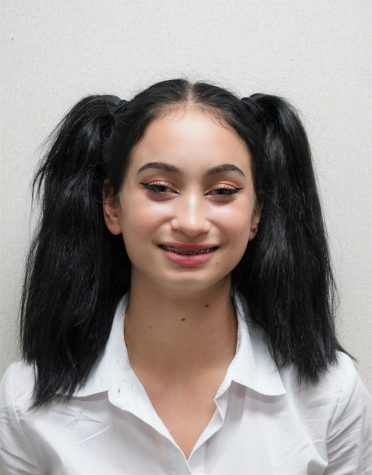 Lucia P., Staff Writer
Lucia is a freshman staff writer who joined spyglass in order to have the ability to make a positive impact on her community at Westridge.