The Amer-I CAN Dream
Nitin Chawla, immigrated from India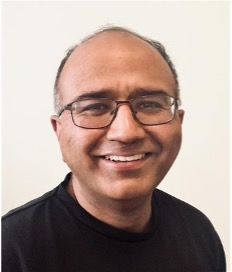 The American Dream: to be successful and be able to support your family. It's what Nitin Chawla had dreamed of since he was little.
Nitin leaned towards the screen, speaking both to his daughter sitting next to him and the computer, where I'm on the call. His eyes, encircled by the brown frame of his glasses, sparkled with nostalgia as he recounted, "I vividly remember the struggle…"
Nitin grew up in India without the extensive resources available in the US. Ever since he was a kid, he'd always told his friends that one day he would make it in America, just like his uncles, his heroes. He would have his American Dream, but it didn't come without adversity.
After graduating college in India, Nitin tracked down a job, but it didn't pay well and he didn't see a future there. The only future he could see was one in the US, where he could use his full potential.
Applying to a college in America was the first step. "I couldn't have even thought about schools like Harvard or Stanford, that didn't offer scholarships," he told me. Eventually, he landed on George Washington University with a 50% scholarship.
There was, however, the other 50% of the tuition to think about. Just that was more than his father had made in his entire life. He remembers having difficult conversations with his parents where they would ask the same questions like, "How will you ever afford this?" In the end, his uncles helped, but only so much. Nitin arrived in the US with no clue how he was going to pay the rest of the tuition.
Entering college, Nitin had to share a one-bedroom apartment and lived off 99-cent hot dogs and PB&Js. He walked the two miles to and from school every day because he couldn't afford the $2 bus ticket. Just being able to attend school cost him hours of hard work at his job. But when he got an internship at Johnson and Johnson, it all seemed to be worth it. For part of the job, he needed a car, so they gave him a rental. "I had to teach myself to drive, but with a new car and a $24 an hour salary, I felt like a god," he told me, laughing. 
Now, with a family and a career he loves, Nitin looks back on these memories fondly. He went through so much, but it was all worth it because he could finally live his own American Dream.
Watching him speak so passionately during his story, his daughter and my good friend sitting by his side, makes me think about how fortunate I am that he chose to live his American Dream so nearby, where I could be a small part of it. 
"I was starting to feel my American dream being fulfilled in my own small way," he told me as our interview wrapped up. "You guys should feel so, so privileged to be born in this land, in this country where if you work hard, greatness awaits you! This whole world is your oyster… People will embrace you in this country…That is the greatness of the American Dream."
And to many, it still exists.
"
"I vividly remember the struggle…""
— Nitin Chawla
Leave a Comment