Opinion: The Top 5 Sequels, Prequels, and Movie Adaptation Summer Blockbuster Hits You Should See in Theaters
WARNING: This contains some spoiler alerts from previous movies.
Sitting down in a dimly-lit theatre with the smell of buttery popcorn and excited chattering while movie trailers play is something that I have been missing for over a year. With the recent announcement of movie theater chains, such as Arclight and Pacific Theaters closing down permanently, the demand for movie theaters to re-open is more prevalent than ever. Even though some movies, such as Top Gun: Maverick, and No Time to Die, another James Bond film, are pushing back their release dates due to pandemic and marketing issues, other films —more notably sequels and prequels — are set to be released this summer. Here are some of my personal top 5 summer blockbuster movies that I'm excited to see (fully vaccinated and socially distant, of course):
A Quiet Place Part II (May 28)
The sequel to 'A Quiet Place' (released in 2018), this PG-13 rated movie follows mother Evelyn (Emily Blunt) and children Regan (Millicent Simmonds), Marcus Abbott (Noah Jupe), and a recently newborn child as they navigate and discover new hidden threats from mysterious supernatural creatures surrounding them. 
Initially when I watched the first trailer, I was drawn in. The movie takes place after the death of father Lee Abbott (John Krasinski) in the first film, but includes flashbacks of his character in the sequel. In addition to fighting off the new creatures, the mother and children discover other survivors, such as Emmett (Cillian Murphy), who have survived the initial attacks of the creatures and are hiding out, hoping to survive. After watching the first movie and becoming a fan, I was excited to hear the news for a second movie. I especially liked how the movie is an immediate continuation of the first film, picking up right where they left off. The trailer's promising thriller jump scare scenes combined with the silence throughout the film makes for a great movie to watch if you want to be on the edge of your seat.
Cruella (May 28)
A prequel to Disney's classic animation 101 Dalmatians franchise, Cruella follows the origin of the villain Cruella de Ville. When watching the trailer, someone commented that Cruella was like "looking at a Disney Harley Quinn," which is pretty accurate. The PG-13 rated movie centers around her evil personality, and although the trailer doesn't explain the main plot, it provides details of her life in 1970s London. Sporting Cruella's fashionable salt and pepper hair, La La Land's Emma Roberts takes on Cruella's characteristics of being evil and naughty. Other appearances include Emma Thompson (Nanny McPhee, Love Actually), Emily Beecham (Outside the Wire), and Paul Walter Hauser (I, Tonya).
I grew up watching 101 Dalmatians, but what really attracted me to the movie was the origin story of Cruella. The last time Disney did something like this was in 2014 with the film Maleficent, starring Angelina Jolie. Similarly to 101 Dalmatians, I had grown up watching Sleeping Beauty, but the newer films surrounding the villains and their origin stories allowed me to see their past, and how they came to be the person they are in modern day. I'm curious to see what take Cruella has and how or if the film will change my opinion of her.
In the Heights (June 11)
In the Heights, produced by Hamilton's Lin-Manuel Miranda and directed by Crazy Rich Asian's Jon M. Chu, takes place in New York City — Washington Heights, to be exact. Main character Usnavi de la Vega (Anthony Ramos), a bodega owner, barely scrapes by and has a whirlwind of emotions as he contemplates whether to stay in Washington Heights or to close his store and move to the Dominican Republic after he inherits money from his grandmother. The PG-13 rated movie is based off of the Broadway musical In the Heights, incorporating songs and scenes from the original show.
Although I have never seen the broadway production of In the Heights, the flashiness of the colors, dancing, and singing in the trailer stood out to me. I'm a sucker for broadway shows and musicals on the big screen — anything from Wicked to Singing in the Rain, I'm all in for. What I especially noticed in this film, however, was the shift in gentrification of Washington Heights, and how a lot of people were being kicked out of their homes due to rising housing costs. Today, that is one of the most leading issues in our country, and I feel like this movie shows up at a perfect time. It draws awareness to the homelessness crisis and gentrification through entertainment with relatable characters, catchy songs, and the city of New York.
Black Widow (July 9)
Similar to Cruella, Black Widow follows the origin story of Natasha Romanova (Scarlet Johansson), a trained assassin since birth. Dubbed the 'Black Widow' as her code name, this prequel focuses on her past as a spy for the KGB (the Committee for State Security in Russia) and S.H.I.E.L.D. agent. The PG-13 rated film follows events after the 2016 film Captain America: Civil War, and how she avoids being killed by the government once the U.S.S.R. disperses. While trying to avoid death, she is forced to seek out past allies and enemies from her time at the KGB, such as Yelena Belova (Florence Pugh), another Black Widow and sister-like figure.
I had originally heard about this movie through my brother and father, both Marvel fans. The trailer's action-packed scenes combined with more relationship and character arcs established over the 2 minute video seems promising. Although movies following other Avenger character's backstories have come out (Iron Man has too many to count), there has yet to be any that focuses on the Black Widow, one of the most featured and popular characters. To me, the plot is the most captivating. The Black Widow, unlike other Marvel characters, didn't inherit any powers, or isn't extremely rich. She trained her way into becoming a fighter, and I'm intrigued to see how her background shaped her to be the Black Widow we know and love today.
Space Jam: A New Legacy (July 16)
The sequel to the legendary 1996 movie Space Jam, starring Michael Jordan, Space Jam: A New Legacy is the second film in the franchise. This time, Lebron James is the resident basketball star in the PG-rated film, with cameos from various cartoon characters such as Bugs Bunny, Daffy Duck, and Speedy Gonzales. The movie centers around the relationship between James and his son Dom (Cedric Joe). After they have a falling out, both are trapped in a virtual reality world ruled by an artificial intelligence machine named Al-G Rhythm (Don Cheadle). James then goes on an adventure with some of the Looney Tunes members and other cartoon characters to save his son, ending with a basketball game against cartoon basketball champions The Goon Squad. 
I have yet to see the entire Space Jam movie (I've seen about half of it), but I'm looking forward to this feel-good movie. I especially love the combination again of basketball players mixed with cartoon characters, a crossover of real life people with animated characters, a type of movie genre that isn't popular. For many Space Jam cult followers, it's been 25 years since the first movie came out, so the sequel has been long overdue. The bright colors mixed with new modernized changes from the first film (such as the addition of AI) create the perfect movie to watch with your family.
Leave a Comment
About the Contributor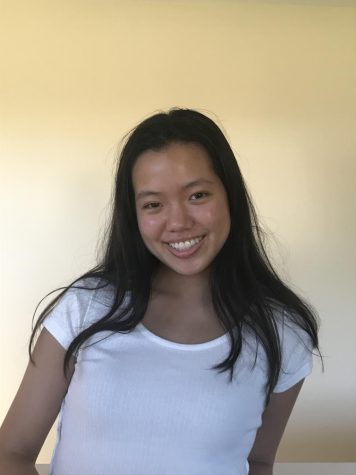 Jacqueline Y., Editor in Chief
Jacqueline is this year's 2020-2021 Editor-in-Chief. Originally joining Spyglass to improve and explore new ways of writing, she now enjoys investigating...