Alumnae and Faculty Honored During Alumnae Weekend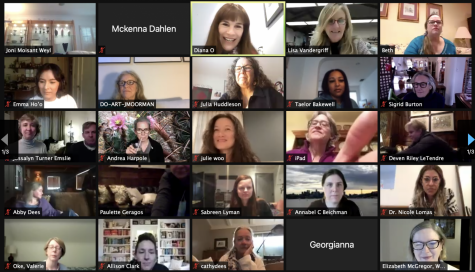 Vintage music played in the background while Westridge alumnae joined the Zoom meeting, some unmuting to chat or report a tech problem. The organizers of the online event stayed muted and allowed past students to catch up with old classmates. Every couple of seconds, a new alumna would join and call out excitedly to an old friend and ask how their parents were or if they still had that jar they made in ceramics class together. After about fifteen minutes of greetings and conversation, Elizabeth McGregor, Head of School, formally welcomed everyone to the event.
This was the scene that greeted the alumnae who attended the first event of Alumnae Weekend: a cocktail reception on Friday, March 12. The event's main activity honored Juanita Jimenez, a Middle and Upper School Ceramics teacher, for 50 years of teaching at Westridge, sending her off to retirement with the gratitude of alumnae whose lives she helped to shape in high school.

Elizabeth McGregor surprised Juanita by presenting her with an Honorary Alumna certificate. This significant award has only been offered to two others: Westridge's long-term Advancement staff member Becky Potter, and the late trustee emeritus, Jim Rothenberg. Before she was given the certificate, two alumnae, Joni Moisant Weyl '72 and Sarah Vernallis '15, gave tearful speeches about Juanita's journey through Westridge and how she not only taught students how to operate a ceramics wheel and make pottery, but she also taught life lessons that would stay with her students for the rest of their lives.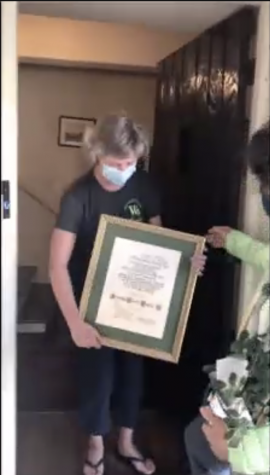 Juanita recalled the event, saying, "It took three days for me to recover from the emotions that I felt and the love and gratitude that I received from all these students."
The next day, Westridge held a brunch to honor two alumnae, Jade McKnight '09 and Jossalyn Turner Emslie '83, by presenting awards celebrating their work to improve the community. As alumnae ranging from the class of 1948 to 2020 joined the brunch Zoom call, they enthusiastically caught up with one another. After a while, the Zoom participants settled down and the award ceremony began.
Alumna Jade McKnight's award, presented during the Westridge Alumnae brunch, honored her work as a Covid-19 relief worker. McKnight has worked at many nonprofits throughout her life. Now a disaster service worker, she was awarded the Distinguished Young Alumna Award award for her embodiment of the Westridge core values: integrity, respect, responsibility, and inclusion.
The second award of the brunch was presented to Jossalyn Turner Emslie for her commitment to lifelong growth. A current physician, Emslie serves as a volunteer and mentor to many individuals in and outside of the Westridge community. In her speech, she described her passion for teaching girls and how the Westridge community continues to shape her as a person.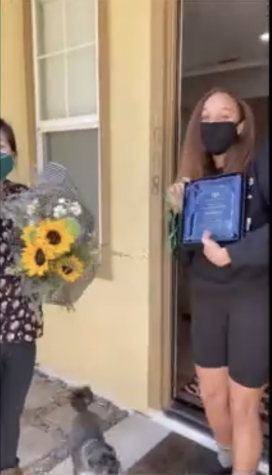 The Westridge Alumnae brunch event was closed by Lisa Vandergriff, Director of Alumnae Affairs, after a quick online poll, asking, "What's your hidden brunch attire?" Among the response options were slippers, heels, cozy socks, barefoot, pajama bottoms, and sweatpants. The alumnae were given the option to join breakout rooms for the remainder of the time to catch up with old classmates.
Vandergriff, one of the organizers of the weekend, described the difficulty of putting the event together online. Emails and online meetings were the only ways to get the event off the ground. Challenges included getting the Zoom links to the correct people.
But, she concluded that it was all worth it. "My favorite part of the job is to see two alums that don't know each other connect and have that bonding moment. I love it when older alums support younger alums and share their knowledge about college or careers. For me, making these connections is what keeps me going."
Corrections (1:30 p.m. Apr. 14):
-A previous version of this article incorrectly used alumna instead of alumnae and alumni instead of alumnae.
-A previous version of this article incorrectly stated that the Board of Alumnae presented Juanita Jimenez with the Honorary Alumna award. Elizabeth McGregor presented Ms. Jimenez with the award.
-A previous version of this article incorrectly spelled Jim Rothenberg as "Jim Rothenburg."
-A previous version of this article incorrectly spelled Jossalyn Turner Emslie as "Jossilyn Turner Ensley."
-A previous version of this article incorrectly stated that Jade McKnight was presented with the Mary Lowther Ranney award. She was presented with the Distinguished Young Alumna Award.
-For clarity, the graduation years of Joni Moisant Weyl and Sarah Vernallis were added as well as the titles of Becky Potter and Jim Rothenberg.
Leave a Comment