Review: The 'To All the Boys I've Loved Before' Trilogy Lacks Dimension and Personality
Netflix has gained a reputation for being notoriously bad at producing its own romantic comedy films. Although they have beautiful and wildly successful titles in their back pocket, like Marriage Story and The Queen's Gambit, these films fall under the umbrella of dark and thoughtful dramas—but at the mention of "rom-com," I find myself mentally compiling a lengthy list of their greatest flops and failures.
As a part of its "Summer of Love" event in mid-2018, Netflix came out with six original rom-coms, most of which were repetitive and tragically dull. In usual Netflix fashion, they were all really boring, really cringy, and really pathetic attempts to charm their teenage audience. But on that list was a film that teens and critics alike could not stop raving about. Enter: To All the Boys I've Loved Before, a coming-of-age rom-com based on the first book in a young adult series of the same name written by Jenny Han.
Knowing Netflix, I assumed that the movie was going to be yet another pathetic and cliche film that generated a lot more hype than it was worth—similar to Kissing Booth or Sierra Burgess is a Loser which—needless to say—had completely dissipated all and any of my potential hopes for their rom-coms.
When I finally caved and watched the movie, I was completely surprised. It had wildly surpassed my every expectation. It was funny, witty, romantic, and dramatic—without coming off as overly cheesy or cliche. Netflix absolutely nailed everything—even down to the casting, with Noah Centineo playing Peter Kavinsky, the cute and charming love interest to protagonist Lara Jean Covey (Lana Condor), a shy and hopeless romantic. The movie follows the events and tumults of their relationship through a classic "fake dating" trope, ultimately ending with the two professing their love for each other and becoming a couple.
The movie perfectly depicted the back-and-forth relationship between Peter and Lara Jean in a way that didn't feel rushed or exaggerated, and its predictability only made it stronger—everyone knows Peter and Lara Jean are going to end up together, but watching how they end up actually, authentically together, is what makes the movie worth watching. Along with this, Peter's cocky but sincere attitude brings out Lara Jean's depth while also highlighting the male love interest's personality—which is something often overlooked in plenty of other rom-coms.
After watching the film, I felt compelled to read the book, but this time I was completely disappointed. The movie was honestly better than the book—which is the highest compliment I can give to an adaptation. Everything, from the casting to the script to the acting was, arguably, perfect. It's only when Netflix attempted to replicate the endearing nature of the first movie, did things go wrong.
The second movie felt like the sadder, weaker offspring of an otherwise perfect film. It lacked the chemistry and passion that kept me watching the first. John Ambrose and Lara Jean had very little—if any—chemistry at all. Their relationship fell completely flat and suffered from a lack of dimensionality. It felt as though John Ambrose was solely introduced in the second movie to build some kind of tension.
Along with this, Peter Kavinsky transformed from a sweet and charming boy into nothing short of an unlikeable jerk. His actions, unlike the Peter Kavinsky of the first movie, felt completely forced—like the producers were trying to make you hate him. And then they painted John Ambrose as this perfect, lovable character who should have won the heart of Lara Jean, but in this movie, Lara Jean was also a douchebag who led him on and couldn't be bothered to tell John Ambrose that she was unavailable and in a relationship. I couldn't tell whom I hated more: the characters or myself for having to sit through it.
Overall, I felt as though I was just watching sand fall through glass—the entirety of the movie left me feeling like absolutely nothing had changed or happened between the characters. There was absolutely no character development, and the writing was all over the place. Netflix took the idea of romance and ran, leaving the movie completely devoid of any development or plot that didn't concern the over-dramatized love triangle between Lara Jean and her two love interests.
The final movie, To All the Boys: Always and Forever, actually wrapped things up well—at least, as far as this franchise goes. In this film, Lara Jean and Peter tackle their biggest obstacle yet: college. I appreciate their honest sentiment in tackling a realistic problem that many high school sweethearts face. It felt far less irrational and all over the place than the second film, and although most definitely not on the same level as the first, it did tie loose ends together in a way that didn't disappoint.
Here's the problem though: Netflix kept trying to build on and dramatize the relationship between Peter and Lara Jean to the point that by the last movie, I couldn't find myself rooting for them in the same way that I did in the first movie—I just didn't care enough to. Everything is hyper-focused on their tumultuous relationship to the point that the movies spend little time developing or focusing on anything but their relationship. It felt as though the writers used all of their wit and charm on the first movie, and now they're desperately trying to wring the towel and milk the final drops of chemistry and drama between the two, which don't even appear to exist at this point.
This may also be the result of the change in directors from the first to second film; a lot of the movie's charm disappeared, and the script turned blotchy and inconsistent. There was a lot of inconsistency in the way that the characters were written—especially Peter Kavinsky. In the first movie, he was sweet and caring and almost too perfect, but by the end of the series, I wanted nothing more than to throw popcorn at his face. He was douchey and cringy and just not the same person that so many fell in love with in the first movie.
Overall, I don't completely blame Netflix for exploiting their audience's insatiable appetite for a feel-good rom-com. It's difficult to come up with something witty and clever while also keeping it romantic and original. The problem here is that the movies were adaptations of a novel series. They didn't have to come up with any of the story themselves—the plot was literally written out for them in the books, and the books were also a major success itself, meaning that Netflix literally had a perfectly good, fan-approved plot waiting for them. All they had to do was compile the most prominent and thematic moments of the books and just let everything else fall into place. It's the way they executed that which made the second and third movies flop.
I know that it's difficult to follow up after making a masterpiece of a movie on the first try, which is why I think that the trilogy would have been fine—if not better—as a standalone film.
View Comments (3)
About the Contributor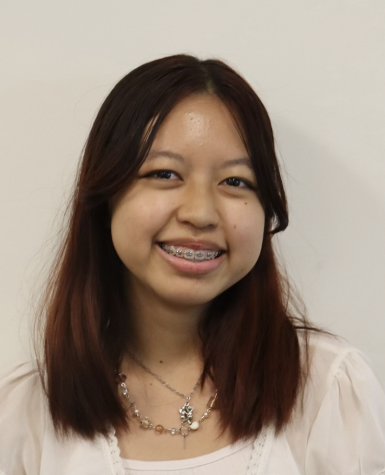 Hailey T., Website Manager/Editor
Hailey is a senior and this is her fifth year on Spyglass as well as her second year doubling as the Website Manager and a writing editor. When not writing,...