Westridge Teachers Line Up for Vaccine
Across the United States, Covid-19 vaccination rollout is ramping up. As of February 28, providers are administering about 1.74 million doses on average daily, likely enough to get us to what experts call "herd immunity" by October of 2021. 
However, many factors play a role in determining whether or not the U.S. will even reach herd immunity, such as the number of doses necessary for each vaccination to be entirely effective and the likelihood of enough Americans receiving the vaccine in the first place. According to a CNN article by Diedre McPhillips, experts are conflicted on this number, with some saying anywhere from 65-70% of the population will need to receive their vaccinations, and others estimating that at least 95% of Americans should be vaccinated in order to achieve herd immunity. 
According to a statement by Gov. Gavin Newsom on February 19, teachers across California will be moved to Tier 1 vaccination priority on March 1, making them eligible to receive the vaccine. Westridge teachers are supposed to be able to receive the vaccination through Vons pharmacy in Pasadena. However, distribution has been challenging, and the new access date is somewhere in mid-March. Teachers have been encouraged to get the vaccine from other providers if they are able. 
For Lower School Humanities teacher Christine Kiphart, getting the vaccine was a vital step towards reaching herd immunity and an easy process at that. She was able to make an appointment with a Pasadena program that prioritizes wasting no available doses. In an email, she said, "Once I got to the site, there were folks there who guided me through the whole process. I hardly felt the shot (great nursing skills!). They had me stay for 15 minutes for observation, gave me verification, and set up the second shot appointment." 
"
There is nothing to lose, and maybe, everything to gain.
— Christine Kiphart
For Ms. Kiphart, the larger implications of mass vaccination far outweigh any trepidation about receiving the vaccine. "I understand people's worries about accepting the first round of vaccines. Even health care workers!! But these vaccines do not contain the virus. You cannot get Covid from the vaccine. It just seems like the best bet for us to make. There is nothing to lose, and maybe, everything to gain," she said. 
Upper School Science teacher Ryan Skophammer shares similar sentiments to Ms. Kiphart. In an email, he said, "I think that it is crucial for all eligible people to receive the vaccine when they are able. The only way to prevent the virus from spreading to people who might get seriously ill, suffer long-term health effects, or die is for the population to reach a high level of immunity through vaccination or infection and recovery."
Dr. Skophammer also had a vaccination experience similar to Ms. Kiphart's. "The process was straightforward – I made an appointment online with Walgreens, I checked in and filled out some forms, then I waited for a bit and received the shot. I was told to wait for 15 minutes to make sure I didn't have an allergic reaction. I had my second dose appointment automatically scheduled when I made my initial appointment," he said. 
Because of the simplicity of the vaccination process, Dr. Skophammer urges those who are able to get vaccinated to do so as soon as possible. He said, "The faster everyone gets vaccinated, the sooner we can resume much of our lives as we knew them pre-pandemic."
The CDC has released no information on student vaccination at this point, but California's move to vaccinate teachers has left students and their parents across the state wondering when school may return to hybrid or in-person learning. 
Be sure to check Spyglass in March for an update about Westridge's role in vaccinating its teachers.
Leave a Comment
About the Contributor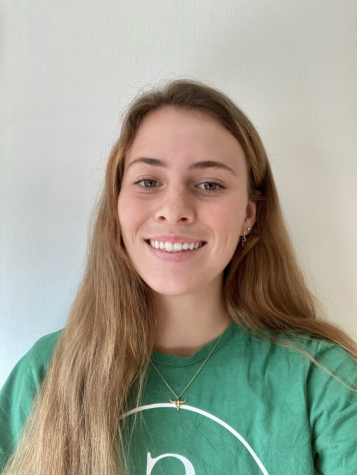 Caroline L., Writing Editor
Caroline enters her 4th year in Spyglass as a senior editor. In her free time, she enjoys getting outside and snowboarding or surfing, hiking and painting.