Review: WandaVision Introduces a New Age of Marvel and Disney Storytelling
WandaVision, the much-anticipated Marvel series, was released on Disney+ on January 15, 2021. Marvel fandom groups and viewers all over the world surveyed their screens eagerly, waiting for the moment to satisfy their insatiable appetites for new Marvel content during the pandemic. As a first time portrayal of a superhero couple, WandaVision paints a new picture, one not only filled with action, but also entangled in the complexities of life that we all face. 
Focused on the two superheroes, Wanda, played by Elizabeth Olsen, and Vision, played by Paul Bettany, the new series develops as a sitcom-style show beginning in a suburban neighborhood during the 1950s, featured in a black and white retro style. Previously in Marvel's Infinity Wars and End Game, the two seem to be trapped in the setting of this suburb. For those who don't know, Wanda yields telekinesis and energy manipulation powers while Vision, her husband, is a robotic man who has artificial intelligence powers. The couple travels through decades as their own relationship evolves. A sense of mystery arises when strange things begin to happen around two protagonists whose identities are hidden from the rest of the world; things are not as they seem in the seemingly usual white suburb. 
A Common Thread Through the Popular Shows of the Pandemic 
WandaVision creates nostalgia for the days before the pandemic. Even the 1950s seems a kind of escape from the harsh reality of today.  Although most viewers did not experience the 50s, nostalgia offers a kind or reassurance, not in its familiarity, but in the feeling of comfort in a simple story. Similar to popular pandemic shows such as Cobra Kai and Emily in Paris, WandaVision portrays an easy-to-follow story, letting its audience experience the characters emotions and dilemmas all while sitting in front of their televisions.  
When a neighbor, Geraldine, shows up wearing an unsettlingly familiar necklace, Wanda doubts her ability to hide their secret powers from the rest of their world. Not only that, but Geraldine also strangely seems to know Wanda's dead brother's name, who was killed in Age of Ultron, helping the Avengers in their battle against Ultron. Tension builds as the couple almost gives away their identities, running themselves wild with stress to fit in and make friends.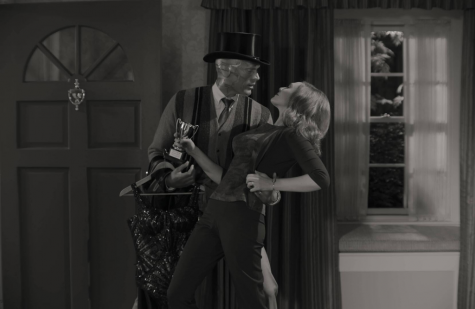 Breaking the Superhero Status Quo 
As a Marvel viewer with a dad who works at Disney, WandaVision was a pleasant surprise for my family's quarantine boredom. Similar to The Mandalorian on Disney+, a new episode is released every Friday at 3 p.m. Pacific Standard Time, beginning on January 15 until its completion of season one, which consists of nine episodes. Although Marvel movies and shows sometimes are too action-packed, WandaVision introduces a refreshing narrative-based series. WandaVision presents a kind of storytelling that caters to a larger audience: both die-hard Marvel fans who understand the details of the complex story and those who only find comedic relief in the familiar sitcom setting. For the keen eye of a true fan like myself, I didn't miss the Stark toaster advertised during the first episode; but for casual first-time Marvel viewers like my mom, she appreciated  the awkward yet familiar comedic bits, such as when Wanda poorly attempts to hide her powers from her husband's boss.
Although the show's fans eagerly wait every Friday for the new episode releases, many traditional Marvel fans lack interest in the comedic anecdotes; they mainly watch in anticipation of the inevitable action. The slow start filled with morsels of intense detail is appreciated by many, but there is no doubt that the suspense may be too slow for diehard fans. Glen Weldon of NPR believes that "It's a lot to ask of people who aren't sufficiently interested in the sitcom as a genre to appreciate the series' deep meditation on that most American of texts, and nod approvingly at, for example, its production design — at the way, in early episodes, Wanda and Vision's home smashes together the Bewitched living room and the Dick Van Dyke Show kitchen."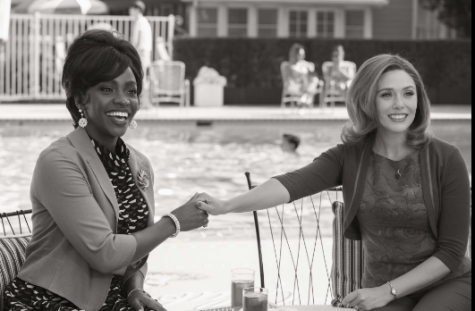 Opinion: A Family's Cure for Quarantine Boredom 
As a Marvel fan myself, I thoroughly enjoy watching this new series. Although I do find that the episodes are too short and my anticipation leaks over its limits, WandaVision provides a much needed bridge to develop my love for MCU. While movie theaters are closed and Black Widow will not be released formally, I enjoy WandaVision as a Friday night tradition with my family. We all gather around and bring our blankets to the couch, turn off the lights, and enjoy the short thirty minute episode. Before quarantine, my family and I used to use new Marvel movie releases as an excuse to have fun and take a break from our busy schedules, and I believe that WandaVision serves the same purpose. 
Leave a Comment