Opinion: Six Movies and Television Shows that Have Gotten Me Through Quarantine
It's been a rocky year for everyone, with not much to look forward to and a seemingly absent light at the end of the tunnel. However, with all the downtime I've had during quarantine, I've taken advantage of the opportunity to sit back, relax, and enjoy a variety of film and television. Without further ado, here are my top six movies and T.V. shows that have gotten me through quarantine:
Happiest Season (2020)
"Happiest Season" was a holiday blockbuster, most notably for its representation of the LGBTQ+ community in a way no Christmas or holiday movies have depicted to date. The film stars Kristen Stewart as Abby Holland and Mackenzie Davis as Harper Caldwell, a couple whose relationship is strained by the difficulties and potential repercussions of Harpers' coming out. I absolutely loved this movie; it puts a modern twist on classic holiday cheer and without coming across as performative or superficial. 
Black Bear (2020)
"Black Bear" is a 2020 indie film that premiered at the Sundance Film Festival in January of 2020. The movie is full of twists and turns, most notably its reversal of roles halfway through. Aubrey Plaza stars as Allison, a screenwriter and producer who travels to a remote lakehouse in search of some inspiration. She meets rocky couple Gabe and Blair, who own the lakehouse and brand it as a haven for artists. The film turns dark quickly, with Allison and Blair at each other's throats, Gabe expressing his disdain for his relationship with Blair, and Allison testing the boundaries of her place as a guest in their home. This film is as meta as it gets and hard to follow at times, but the phenomenal acting and camerawork make up for any confusion. 
The Wilds (2020)
"Lost" meets "Mean Girls" in "The Wilds," a show about a group of high-school-age girls whose plane crash lands off the coast of an uninhabited island. Each episode focuses on one of the girls and dives into their life before the crash-landing. Writer Sarah Streicher introduces themes of addiction, abuse, homophobia, disordered eating, and a multitude of other mental health issues in each character's backstory, providing context for their behavior and actions on the island. However, what seems like a Lord of the Flies-esque story turns sinister at the end of the first episode, when viewers discover that there's more behind the plane crash than meets the eye. I started and finished this show within three days; I was enthralled by the character development and the three main storylines and settings explored. The show has been confirmed for a second season, and writer Sarah Streicher is already exploring paths she could take the show on her Twitter, communicating with fans to gauge what they want to see more of.
The Undoing (2020)
"The Undoing" stars Nicole Kidman and Hugh Grant as Grace and Jonathan Fraser, a wealthy New York couple who becomes entangled in the murder of a young artist named Elena (Matilda De Angelis). We watch Grace's life unravel as her husband is accused of Elena's murder, and the story of a well-to-do family in New York soon turns dark. This is one of the few shows that I've ever watched in its entirety with my parents, and I'm glad I did. The twists and turns of this murder mystery were predictable at times, but nonetheless fun to speculate on together. 
Space Force (2020)
I'm still not entirely sure whether I think this show was a display of comedic genius or if it missed its mark completely. "Space Force," which stars Steve Carell as the director of the U.S. Space Force, is lighthearted, comedic, and very satisfyingly paced. However, at heart, the show is a commentary on American idiocy and the political environment at the time it premiered. At times it filled me with contempt for American culture, but witty one-liners and a fantastic cast provided the balance I needed to binge the show within two days.
Killing Eve (2018)
I won't lie, I've watched "Killing Eve" at least five times to date. It's in my top three T.V. shows of all time, and I'm not ashamed that it's my go-to when I have nothing else to watch. "Killing Eve" stars Sandra Oh as Eve Polastri, an MI6 agent bored with her desk job and itching for some bigger cases. Jodie Comer plays Villanelle, a sociopathic assassin who eventually crosses paths with Eve. The show is full of high, striking fashion, James Bond-esque stunts, and a lively yet suspenseful score tailored perfectly to the juxtaposition of Eve's sheltered, mundane life to Villanelle's alluring, action-packed one. 
Leave a Comment
About the Contributor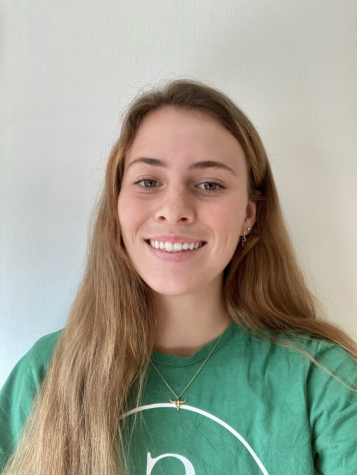 Caroline L., Writing Editor
Caroline enters her 4th year in Spyglass as a senior editor. In her free time, she enjoys getting outside and snowboarding or surfing, hiking and painting.