All-School Food Drive Triumphs Against All Odds
Despite the obstacles presented by the COVID-19 pandemic, the Westridge community rallied to support the recent all-school food drive. In fact, Ms. St. John, the Westridge Service-Learning Coordinator, said, "It was the most successful food drive since I've been at Westridge."
The success of this food drive seems nothing short of miraculous given the impact of the COVID-19 pandemic and California wildfires on the health, finances, and emotional well-being of Westridge families. Moreover, getting donations to school was inconvenient since students are not on campus during this period of remote learning. So, why was the participation in the food drive so high?
Ms. St. John attributes part of the uptick in participation to the Westridge community wanting to help others during these difficult ongoing circumstances. "I do think part of it was that we had just come out of the horrible fires at the beginning of the school year. The pandemic, people are losing their jobs, they were losing their homes — these are obviously really difficult times for a lot of people, and I think that does speak to our school, that we care and we want to help people."
In addition, every family experienced some level of concern regarding food as food shortages and empty grocery store shelves marked the early days of quarantine. "For the first time, people who have always been very food-secure experienced panic themselves around food not being available. That actual in-person experience with — certainly not food-insecurity — but an awareness of the bounty that we experience on a daily basis in our lives at a school like Westridge, and when that was suddenly in a different supply, a shorter supply, I think that gave everybody some really clear perspective on what this feels like," said Ms. Wei, an Upper School English teacher.
Not surprisingly, the joblessness and financial devastation of the COVID-19 pandemic has caused the rate of hunger to significantly increase. Organized by Westridge Service, the school's program for community service, the food drive provided much needed support to Friends in Deed. Friends in Deed is a local community-driven organization that provides supportive services to roughly 400 at-risk and homeless families in the greater Pasadena and Altadena area. The Friends in Deed Food Pantry is organized as a neighborhood market, where low-income and no-income neighbors can select their own groceries.
While much of the food donated to the Friends in Deed Food Pantry is sourced from the Los Angeles Regional Food Bank and numerous local food sellers, Friends in Deed Pantry Director Tim Nistler emphasized the importance of food drives. "To be able to make sure that we have plenty of food, plenty of choices — healthy choices as well — we can't get all of that just from the LA Regional Food Bank or local stores on some of their donations. It wouldn't be enough. The importance of food drives is that it helps us keep our shelves full."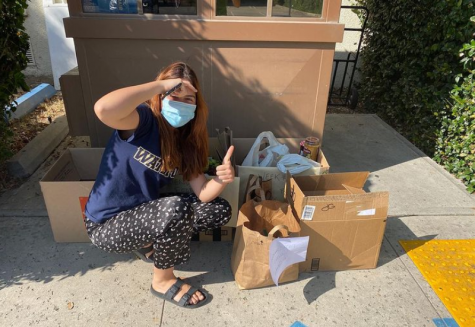 Given the challenges around in-person donations during the pandemic, Nistler and Friends in Deed have pivoted to accepting donations by delivery. For example, Paul Lu, a Westridge parent, shared, "Our home is about 30 miles away from school. I would like to thank Mr. Tim Nistler, Food Pantry Director. Because of his great efforts, I will be able to order my donations and deliver them to the facility through Amazon."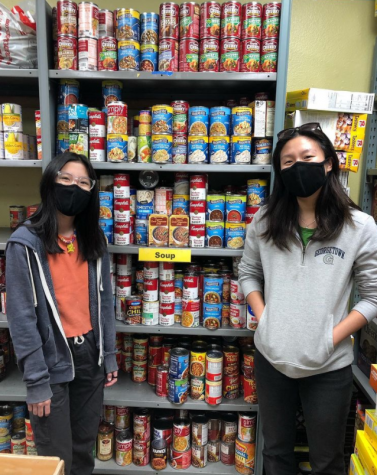 Furthermore, Lu added, "The Westridge community is very socially responsible and caring." With few opportunities to experience both service and connection to the community during remote learning, the food drive felt to Ms. Wei "like a moment of being connected back in person with this community. I think at the heart of it, this is a giving and caring community — it always has been part of the school since its inception."