Middle School Teachers Turn Up the Heat with Fourth Annual Chili Cook-Off
Anticipation buzzed throughout MUDD as the Middle School faculty milled around the tables covered in chili pots and salad bowls. Amid some collegial trash-talking and old fashioned pot-stirring, the competition was about to get fierce. The Fourth Annual Chili Cook-Off had begun.
For the past four years, the Middle School faculty have come together for a good time and to experience the thrill of the chili competition. With each chili being judged by the spectators along with the participants, the competition is lively and promotes community. Jen Irish, Eighth-Grade history teacher, described the Cook-Off's humble beginnings. "It started because in our office we were talking about chilis, and I said I have the best recipe. Mr. Cross said he had the best recipe, and it was basically a throwdown."
All eyes were on three-time chili champ, John Cross, Seventh-Grade English teacher, whose trophy and title were his to lose. Cross, concerned about his reigning title, added a new ingredient to spice up the already heated competition: merguez sausage. "I have added something new this year … which makes me a little nervous because there are more people gunning for the title this year," he revealed.
Mr. Cross's past victories have only galvanized the resolve of his opponents. Irish herself commented, "I didn't make chili this year, but I'm feeling like he needs to go down."
Along with the pride and satisfaction of winning, the champion of the competition comes away with the most epic of trophies, wanted by all who compete: a statuette of the Hulk, terrifyingly ripping his shirt in anger.
Newcomer Dr. Zanita Kelly, Lower and Middle School Director, is hoping to one day boast the prize. "I do not have chili … but I'd like to size up the competition for next year so I know what I need to bring. I saw the trophy, and I'm kinda coveting it as well."
With five different delicious chilis and a variety of flavors, the competition was not easy. After a hard fight, Cross's winning streak was broken. Cross's "Chili Diablo" fell to Masami Hansen, Eighth-Grade English teacher and Spyglass Faculty Advisor's, "Chili Classico."  Although Hansen took home the trophy, she was quick to point out that technically it was a tie with Farrell Heydorff, Dean of Lower and Middle School Activities.
Heydorff was originally going to enter her "Chili Blanco," a recipe she perfected after she came close to winning last year's competition. However, a kitchen mishap forced her to enter a different recipe. When Hansen offered to split the win, Heydorff replied, "I don't want to win on this recipe. I'm holding out!"
​
​
Hansen's chili, a mix of turkey and beef, was admittedly somewhat of an afterthought.  "I don't think the recipe is all the special, if you can even call it that. Honestly, I really wasn't planning to compete this year. I didn't want to split the vote, and I was gunning for Farrell since she came so close last year, but anything to dethrone John's reign!"
Even though the cookoff ignited some heated words, the sentiment is warm among friends and colleagues, who echo Jen Irish's sentiments: "It's just a nice excuse to share a meal and have fun."
Leave a Comment
About the Contributor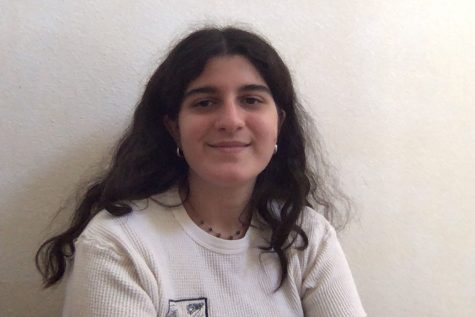 Sophia H., Managing Editor
Sophia is the 2020-2021 Managing Editor of Spyglass and super excited to be taking on the position this year. She's dedicated to building community,...