Halloween at Westridge
Upbeat songs blast from the gym's speakers as costumed students aimlessly toss candy into the bleachers. Classmates talk amongst themselves, pointing out the different array of costumes. It's October 31, and Halloween has kicked into gear.
Halloween is always a highly anticipated holiday at Westridge. Whether students are piecing together a costume from casualwear or sewing together an ensemble from material scraps, the holiday is a chance for students and teachers to show off their costumes and creativity.
"I generally like Halloween. It's kind of annoying to figure out what to wear, but it's also an opportunity to hang out with your friends, eat candy, and have a good time," Sophia D. '23 stated.
ASB hosted the event, with the judging panel consisting of Joe Busch, Bonnie Martinez, Zanita Kelly, Nicole I. '20, and Sophie C. '20, with Julia S. '21 announcing the prizes and providing commentary for the parade.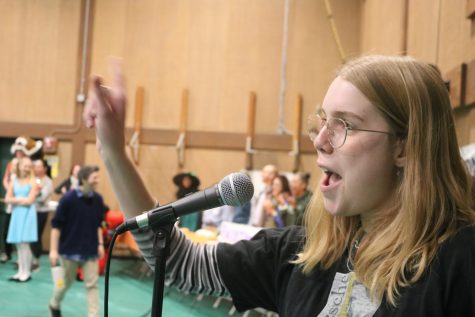 This year, the seniors draped sheets over themselves and cut out eyeholes for their ghost-inspired class costume. "I didn't like our Halloween costume because I thought it was boring and lazy, but it was very on-brand for our senior class," Abby Y. '20 shared.
"It's also that doing sheet ghosts is an easy thing since everyone has sheets, so sheet ghosts are the one costume that everyone can do." Ayiana S. '20 added.
Where the senior costume may have lacked in design, Corina D. '21's more intricate portrayal of the house of Baba Yaga, a Slavic folklore character, represented one of Westridge's more elaborate costumes.
Teachers partook in the fun as well, from costumes like DNA to more elaborate pieces like the PI-rate costume that won Daniel Calmeyer, Upper School Math teacher and Yearbook Advisor, and his family the title of Biggest Faculty Flex (Best Faculty Costume).
"We wanted to have a family costume, and so we were messing around and saw a cute family dressed as pirates, and we decided: that's going to be us," Calmeyer explained.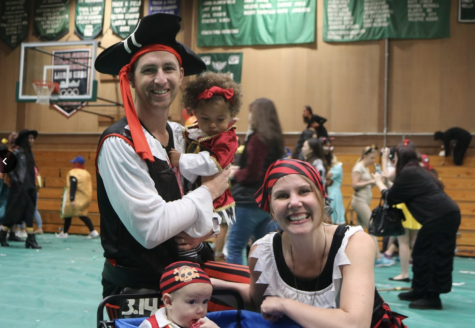 Students and teachers even coordinated costumes. Ashley S. '23's Scoop's Ahoy ensemble from the Netflix series, Stranger Things, complemented Costume Designer Io Hawk.
Mim H. '22 scored some brownie points with a portrayal of Brandon Kruhm, Director of Theater. "Mr. Kruhm has such a distinctive style, and I thought that it would be really funny to dress up as him and honor him and the entire theatre department," Mim H. '22 explained.
View Comments (1)
About the Contributor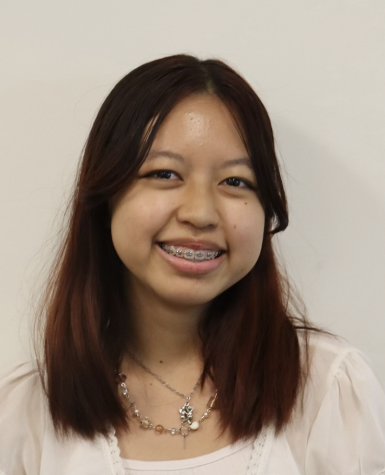 Hailey T., Website Manager/Editor
Hailey is a senior and this is her fifth year on Spyglass as well as her second year doubling as the Website Manager and a writing editor. When not writing,...