Reflection and Revolution: Minority Artists Highlighted at Westridge
"Underrepresented communities—you gotta represent them!" Katie Sivers, Upper School art teacher, exclaimed, observing the many paintings, poems, and other pieces that made up the annual, student-led Reflection and Revolution art show.
​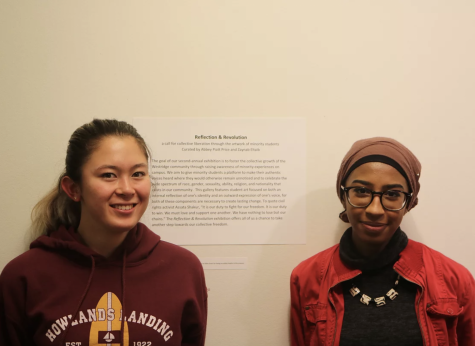 ​
Organized by Zaynab E. '20 and Abbey P. '20, the show exhibits writing and visual art from students with minority backgrounds, including religion, sexuality, ability, family situation, and nationality. The show hopes to explore the issues facing minority students on campus and express them on a more personal level.
"A lot of people don't really know that much about the minority experience because Westridge has such a hustle and bustle so that we don't really dig into that. Student Voices gives awareness on issues, but not student-personalized issues. It's an alternate way to raise awareness, something that's more personal, and you engage with it in a different way than you would reading a paper or something," said Abbey.
This year, the show featured pieces that explored the topic Reflection and Revolution: an internal reflection of one's identity and an outward expression of one's voice. This idea came alive through pieces such as Zaynab's portrait. She depicted the famous portrait of Napoleon Crossing the Alps, except replacing Napoleon with her own face. Her piece commented on the Eurocentric nature of art and her own hope for representation of herself within the art world.
"By painting myself on Napoleon's horse, arm extended and heroically gazing into the distance, I created what I wish I could see on museum walls, history textbooks, and more. I never had the chance to study or admire works with faces like mine—not because they don't exist, but because my history isn't deemed relevant enough to be exalted," said Zaynab.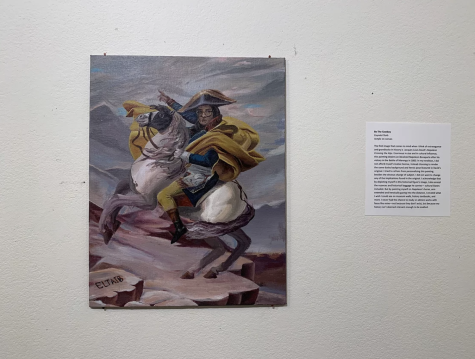 ​
Katie Sivers was excited to see pieces highlighting underrepresented groups.
"[It's important] because the art world is so surrounded and embedded with the white male European or Western civilization canon. Also, pieces that gave a genesis within the student, who are just wanting to make them, are so amazing."
​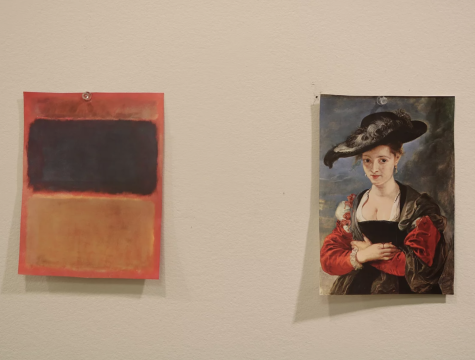 ​
Althea L. '20 also appreciated an alternate way of looking at the art world. "Since I became so invested in how performing arts can tie to issues such as minority inequalities, I wanted to see how people who do different types of art than I do can do that too."
Students and faculty overall expressed their appreciation for the existence of this space and were grateful for efforts to incorporate minority voices into Westridge life. For future exhibits, Abbey and Zaynab encourage students to share their experiences and hope their project makes an impact.
Leave a Comment
About the Contributor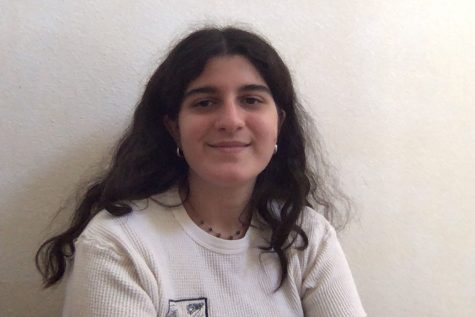 Sophia H., Managing Editor
Sophia is the 2020-2021 Managing Editor of Spyglass and super excited to be taking on the position this year. She's dedicated to building community,...