Westridge's Maintenance Staff Prepares Campus for Students' Return
Every other morning at 6 am, Elias Aguilar arrives at Westridge for work. He is met with a near-empty parking lot and a ghostly quiet campus. Aguilar is a Maintenance Technician, and his job includes keeping the school in order while everyone is gone and preparing it for when students come back.
Along with three other maintenance workers, Aguilar's day-to-day tasks include touching up the Madeline gates with paint, replacing burnt out lights, and fixing leaky faucets. "We just want the campus to look awesome," he explained. Many of their tasks also revolve around the  Health Department's requisites for reopening schools during the pandemic. They must install mobile hand-washing stations, scattered around campus for when students come back.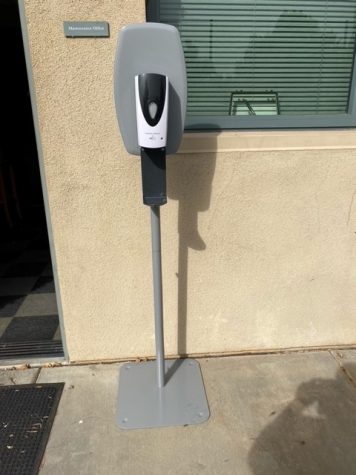 The maintenance staff will also place informational signs all over campus to prepare for students' return. Some of these direct traffic flow, so there is no two-way foot traffic where students would directly pass each other. Other signs state the maximum occupancy of an elevator and how safe it is to ride one during the pandemic. There are many "Do Not Enter" and "Enter Only" signs as well as several red and green arrow ones. These will not be put up until students return to school, in order to protect them from the elements.
The maintenance staff has also moved desks to meet physical distancing standards. Couches and other soft surfaces have been removed since they are less easily cleaned than hard surfaces. Before the pandemic, students would often move desks around to sit closer to friends or to create a circle, but now each desk leg is marked with a piece of tape so students know not to move them.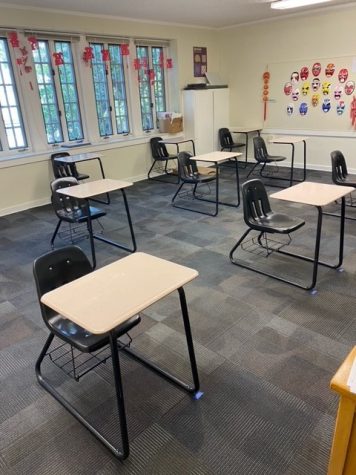 They are also working to make everything as touch-free as possible. The water and ice dispensers are now touch-free and so are all water fountains. They have even converted some water fountains into hand-washing stations.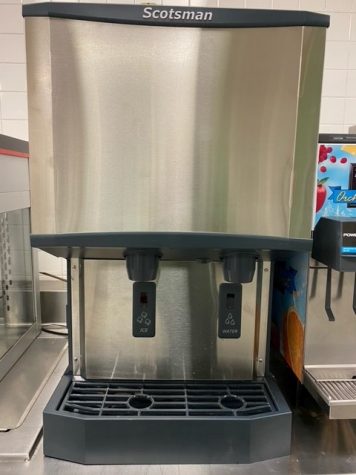 The custodial staff comes each evening to wipe down all surfaces, and one custodial staff member sanitizes everything during the day. However, once Westridge reopens in-person school, more personnel will be present during the day.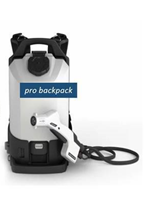 All the custodial staff's cleaning products now have to be CDC approved. Electrostatic spray cleaners, a backpack with a hand-held nozzle, are also a part of Westridge's cleaning arsenal. These shoot out sanitizing liquids to quickly clean contaminated surfaces. "We can put on the backpack and a mask, and gloves, and take care of it to keep everyone safe even during the day, so as not to delay," said Felicia Johnson, the Director of Facilities.
When the Maintenance staff gets to work each day, the only people on campus are them and the security staff. This can feel lonely and very different from the regular school year. "It's sad because we miss the girls running around, the teachers, the faculty. It's pretty lonely," Aguilar said, angling his phone camera to show me an empty Frank Field and quiet Madeline Court.
Nevertheless, it has been easier to complete projects with reduced foot traffic on campus. One project the maintenance staff recently implemented was a new recycling program. The campus now has huge recycling centers made out of melted down milk jugs. With fewer people, the program was easier and quicker to roll out.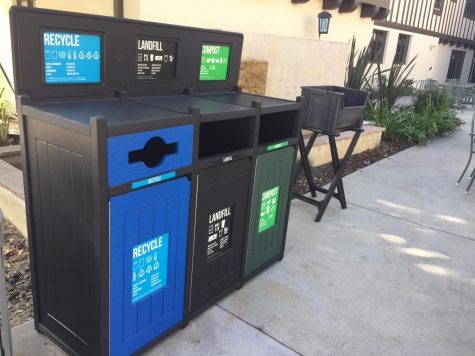 They have also been checking every single classroom for broken blinds, windows, and lights, and repairing these. "[When faculty and teachers return to campus] they don't have to worry about those things or sending in work orders. All they have to worry about is: 'Welcome back students,'" explained Johnson.
The maintenance teams work schedules have also been moved around. Now they are alternating for maximum safety. On one day, Aguilar will come in at 6 am and will leave mid-day as another maintenance staff member will arrive and stay on campus until 4 pm.
"Yeah, I do miss my coworkers. We all get along great, and we've all been here for a long time. I've been here for 11 years and the other guys have been here longer," explained Sal Ortega, a maintenance staff member. "We were just used to seeing each other every day, and working together to get any project or setup done together."
Occasionally, the maintenance staff will see teachers when they come on campus to pick up supplies from their offices. "It's nice to see people you haven't seen in a long time. All of us enjoy seeing people coming here and there. Then it's not so lonely here," said Ortega.
"
Everybody is learning, even teachers, faculty, staff, and administrators.
— Felicia Johnson
Ms. Johnson explained how the protocols can in fact bring the Westridge community closer together. "Everybody is learning, even teachers, faculty, staff, and administrators. And so I think that's one of the cool things, is coming up with a brand new system but everybody understanding the importance of it and following along. Even when it's confusing. At first, everyone's like, 'What? What is this, oh my god.' But now it's just like, 'This is what we have to do for everyone's safety.'"
Leave a Comment
About the Contributor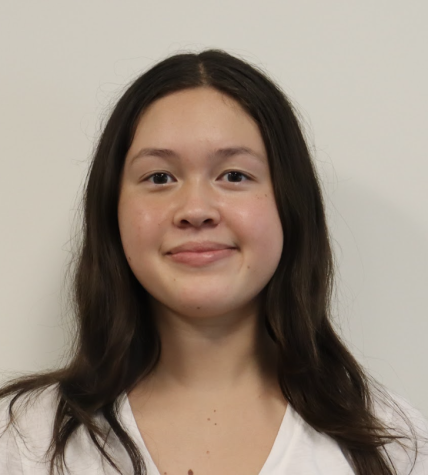 Katie S., Editor
Katie is a senior, and this is her fifth year on Spyglass and third year as an Editor. In her free time, she loves playing guitar, writing, and doing calligraphy.