Fall Festival: Westridge Theatre Goes Online
"
I am so, so proud of the final result. I'm so happy that I got to be a part of it and the cast was just phenomenal."
— Jazz D. '23
A typical theatre production at Westridge starts with eager family and friends bustling around to find their seats in the PAC before the stage grows dark. Ushers pass out programs at the door, and a humorous message reminds audience members to turn off cell phones. Now, several months into a pandemic, when sitting behind a computer for eight hours straight has become the new norm, the Westridge theatre program faces a challenge: performing live theatre online. 
This year, the theatre department presented the Fall Festival on Nov. 6 and 7, which was a compilation of scenes from different plays, as well as multiple original pieces written by Westridge students. Performances were streamed and pre-recorded.
While some students took the conventional acting path, others wrote and created their own short films, plays, and even soundscapes. Mim H. '22 created an audio sequence of a scene from "Elliot, A Soldier's Fugue" featuring recordings of actors' voices, a Westridge flautist, and a series of sound effects. Other students designed and created costumes for actors, and a number of people did scenic design.
Although Westridge normally produces one play at a time, students picked the Fall Festival scenes, resulting in more freedom in terms of content. "I thought it was really cool that students could pick their own projects, so they could talk about what they wanted to talk about. There were a lot of student projects that were really relevant [to what is happening now]. There was lots of commentary," said Mim H. '22.
Summar B. '21 created a comedy thriller called "Hitchhiking for Dummies." "Each actor filmed their own part separately, in their own cars, and I edited it all together. The result is definitely pretty unconventional, but I think it represents our current situation fairly well," said Summar. Another student, Tessa J. '24 created her own claymation video entitled "Squashed" about a Halloween-inspired mishap at the drycleaners.
Performing online is not without its challenges, and one of the biggest was the lack of physical space. Movement and expression are a huge part of theatre, and it is not uncommon for actors to use physical movement like dancing and running in Westridge productions. This year, performers had to think differently. 
Additionally, actors could not physically share a space. A big part of acting is bouncing off of the other actor and their emotions, but in a world where everyone is confined to a little rectangle on a screen, moving around and improvising can be near impossible. "Something simple like handing a prop becomes such a difficult thing to figure out," said Brandon Kruhm, Director of Theatre at Westridge.  
Although performers were happy with the outcome, there was a shared sense of loss for live performance. Mia M.W. '24 said, "It was missing that same excitement of being on stage and doing it in the moment. I do miss being on stage."
Mim H. '22 agreed, and also noted, "It still had the theatre spirit, but just not live. But there is an argument to be made about whether a live performance is really integral to the art form."
Mia MW. '24 enjoyed the Fall Festival, but missed connecting with castmates, "It was really fun for me. I will say that it was missing the same bonding element. There wasn't the talking in between rehearsals or lunch breaks or anything like that." 
Audrey M. '21 who worked on scenic and costumes agreed: "The experience was a little bit more isolating than usual. Theatre is normally a very collaborative environment, but when doing scenic and costume you're normally working on your own."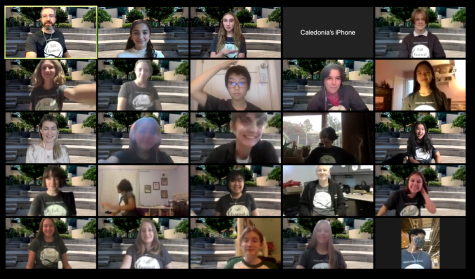 The afternoon before the Fall Festival was streamed, the theatre cast and crew gathered to compliment each other and provide positive reinforcement. They all set their Teams backgrounds to the Westridge amphitheater and wore Fall Festival t-shirts in an attempt to recreate a typical company opening night. Continuing the tradition, the cast went around sharing love and gratitude for their cast-mates and friends. "It was definitely very different from what we usually do, and I don't think anything can quite be the same, but it was pretty fun considering the circumstances. We still got to be together as a company and do reinforcements," said Summar B '21.
Performers and crew alike had a very positive response to the fall festival and loved being a part of it. Although online school presents new challenges, everyone was glad to have theatre back in their lives. "I am so, so proud of the final result. I'm so happy that I got to be a part of it and the cast was just phenomenal." said Jazz D. '23.
Contact Brandon Kruhm, Director of Theatre if you would like access to the production recording. [email protected]
Leave a Comment
About the Contributor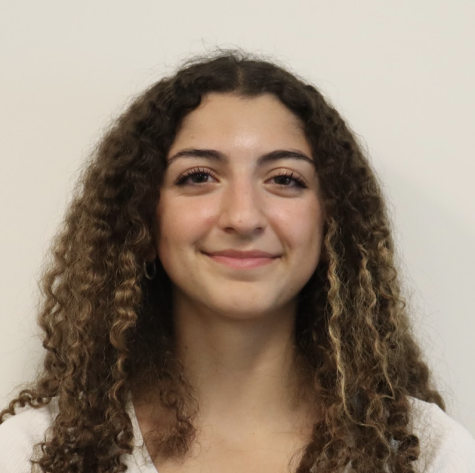 Daria H., Editor
Daria is a junior. This is her third year on Spyglass and second as an editor. Outside of Spyglass, you can find her reading, studying in coffee shops,...