Among Us: A Tale of Victories, Defeats, Cyberbullying and Finding Community
"
If they're able to come together in groups, and have fun, and laugh, and play, that's kind of the whole point of games."
— Brittany Coker
The thump-thump of running players. The fear of the electrical room. The stress of card sliding. Among Us, the simple space-themed mafia game made by Innersloth, a small American game studio, has recently grown in popularity amidst the pandemic, and the increase in players has also attracted hackers to the site. However, despite all of these hacks and cyberbullying issues, Among Us continues to be a virtual tether for players all over the world.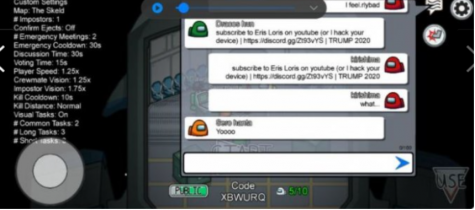 Many Westridge students who play the game have been hacked in the game. Keaton L. '24 talked about her experience. "I kept getting VOTE TRUMP links." Keaton, aware that there are more extreme attacks than what she faced, said, "I haven't been in anything where it was an extreme case of anything, just small things every once in a while." These hacks didn't mean much to Keaton, who continued to play Among Us with her friends.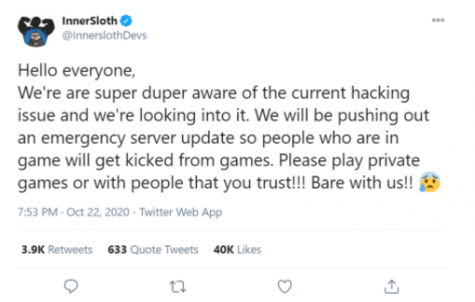 Kiera S. '24 described the hacks she's experienced. "I've had games where we instantly win, but I've never gotten any of the bigger hacks that have been going around." Both students expressed concern about the hackings but noted that the sole programmer Forest Willard was doing all he could to prevent them. "I have to give it to the game developers, they have been really trying," said Kiera.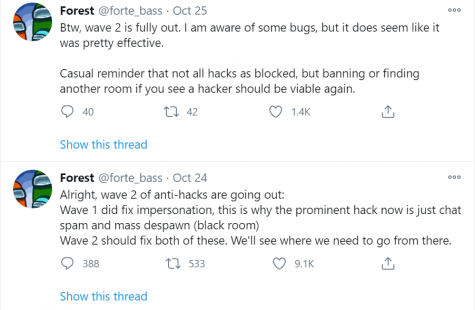 The game originally was not very popular back when it was released in June 2018, and the creators weren't prepared for the drastic amounts of hacking. Especially with a lack of programmers and coders, the game struggled to combat these hacks. "Of the three developers for Among Us, only one of them is a programmer," said analyst Izaak Funke. "This means that just a single person is responsible for both the implementation of new content, maintenance and removal of bugs, server optimization, and anti-cheat systems." Despite this fact, sole programmer Forest W. continues to create effective anti-cheat systems. 
In addition to hacking, students have experienced cyberbullying. Brittany Coker, the Dean of Upper School Student Activities, has used Among Us as a team-building activity; however, she acknowledged the challenges as well. "It does definitely make me a little nervous to play if there are incidents of hacking and cyberbullying." Although Ms. Coker seemed concerned, she emphasized that students should enjoy the game. "As long as students can play in a way that's safe and doesn't expose them to things that are not great for them…that's kind of the whole point of games, so I support that."
On top of the hacks, many users have taken issue with misgendering and using incorrect pronouns, because he/him/his pronouns have been used more often due to the time limit in the game. "I have been playing games of 'Among Us' for almost a month now, and every time someone has used a pronoun to refer to me, it has been almost exclusively the "he/him/his" pronouns," wrote Shruthi Narayanan, a student reporter at Dougherty Valley High School. "Misgendering people online is a problem, and it's not right to simply brush it over as 'insignificant.'" People feel misrepresented when others use the wrong pronouns, and people have even called it cyberbullying.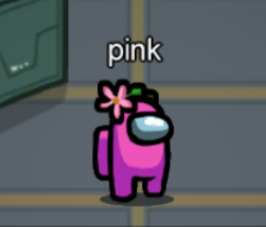 Furthermore, some people have even experienced sexism. Lauren K. '24 said, "The people in the game bullied me because I had a flower in my head, and I was pink so they assumed I was a girl, and so they kicked me out." 
However, cyberbullying has not deterred everyone. "I don't care what people say to me, pronouns wise, but people should be respected if they use it," said Keaton. She talked about how she wasn't affected very much. Kiera agreed with this and said that she ignored them. "I don't think that cyberbullying really affects me. You have to look past it, but it's still so annoying." 
Despite all of these hacks, Among Us is still a game for reconnecting and building community. "I've played with some people from my old school, and I reconnected with them," Tessie J. '24 said. People come to play with each other and socialize. "Among Us is a game that felt needed during a time when staying socially distant became the new norm, and has brought many people a great deal of joy," said assistant features editor and journalist Evelyn Lau. During quarantine and distancing separation, it has been difficult for students to reconnect with each other, but with the game, they have something to look forward to and enjoy, as well as communicate with their peers. 
Coronavirus has restricted people from socializing and has separated students from each other., "It's a way to pass the time when you don't have anything else to do," thirteen-year-old Benson, who plays Among Us on discord servers, said in the New York Times. "Since we can't really congregate in a public area like the park, Among Us allows us to be online social distancing." Students like Benson, all over the world, continue to meet with friends through the games as a way to deal with quarantine. 
The game has also been considered an emotional tether to family members and friends and an opportunity to meet new people. "A fascinating side effect of all of this distrust and backstabbing is that we're spending more time together, talking to each other, learning about each other," wrote opinion writer Graham Day in The Escapist. "Our relationships and our bonds are growing." Although the game was built to foster distrust, people are getting more connected with one another through the game. "I find myself now more connected with my family and friends than ever before, and in 2020, that is something that many people desperately need," Graham continued. "If you have fallen out of touch with loved ones or friends, this is an excellent way to bring them back into your life." 
The game remains a social hotspot for students to connect with their peers. With nowhere else to go during quarantine, people have flooded the game to reconnect with their family and friends. It has been a hopeful and reconnecting experience and a reminder that things will get better.
Leave a Comment
About the Contributor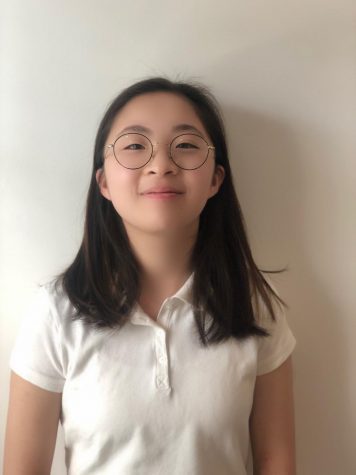 Lauren C., Design Team
Lauren Cho is a junior Spyglass Design artist. She has spent the last two years as a staff writer, but she wanted to join the Design Team this year to...