Secret Santa, Caroling, and Parties Keep Holiday Spirit Alive at Westridge
Despite the sunny Los Angeles winter, the holiday spirit is alive and well Westridge and students and teachers are celebrating with parties, gift-giving, caroling, and maybe even a cup of hot cocoa.
Secret Santa, a Westridge tradition, is a well known and classic way for friends and other groups across campus to bond during the Holiday season. Glee Club, the Winter play, advisories, and others gather to trade gifts and guess their Secret Santas.
Students every year look forward to the long-standing tradition of pulling a name out of a hat and buying them a gift under $20 or $30. The thrill of receiving candles or fuzzy socks (or occasionally more strange gifts) remains unmatched as a highlight of the holiday season.
Secret Santa also brings students and faculty together.
The annual winter play gift exchange always brings together its participants.  The annual winter play gift exchange always brings together its participants. "It's also really fun because most of the theatre faculty and staff and adult designers and everybody participate too, we're all together on the Friday before the show for a long time. Friday night shows we always have several hours between school and the show, so it's also a lovely way to pass the time. We all put on some Christmas music and sit around and open presents," said Brandon Kruhm, Director of Theater.
In addition to Secret Santa, Westridge celebrates the season with class holiday parties. This year, the junior class leadership team threw a karaoke party in Braun, supplied with lots of cocoa and marshmallows.
"It was really fun to do karaoke at the holiday party! I'm not good at singing, but it was still fun to sing Feliz Navidad with my friends for the whole class," said Mia H. '21.
The freshman class, on the other hand, built gingerbread houses for their party, celebrating the season with candy and other treats.
Another favorite holiday tradition is caroling. Before break, Glee Club surprises classes and offices performing holiday favorites like Angels We Have Heard on High and We Wish You a Merry Christmas. The week during breaks, students can look forward to the joyful voices ringing through campus.
Reese O. '20 has been caroling for Glee Club since freshman year and appreciates the festivity it has brought to Westridge. "Caroling just brings a little joy into people's classes; it brings out that holiday cheer."
Traditions like these carry the holiday spirit all the way to break as students celebrate each other and a well deserved two weeks of rest.
Leave a Comment
About the Contributor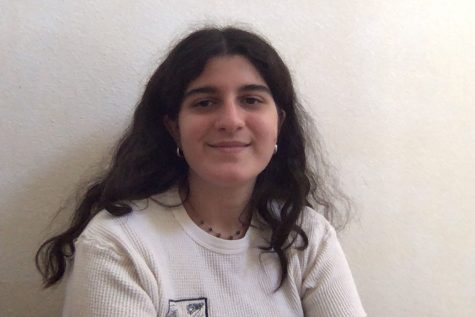 Sophia H., Managing Editor
Sophia is the 2020-2021 Managing Editor of Spyglass and super excited to be taking on the position this year. She's dedicated to building community,...