The Writing Center Proves to be a Helpful New Resource
Starting this year, Westridge has introduced the writing center as a new resource for students to get help with their writing.
The Writing Center provides a space for students to ask for help from their peers or a facilitator about their writing in an environment without the pressure or hassle of scheduling an appointment with a teacher.
Students receive advice from writing coaches, other students who have been trained to give help in a discussion-based style.  The coaches guide students through any stage of the writing process, whether it is the initial stages of developing an idea or writing one specific aspect of a paper.
The whole English department worked to get the Writing Center off the ground. Ms. Stevenson, Upper School English teacher, is one of the facilitators at the center and elaborated on the purpose of implementing the writing center. "Because of the lack of face to face time in class, what we realize is that a writing center can be really helpful for meeting the student exactly where they are. So, in the class, people are on different levels, but when we are working face to face, I get to see exactly where that student is," said Ms. Stevenson.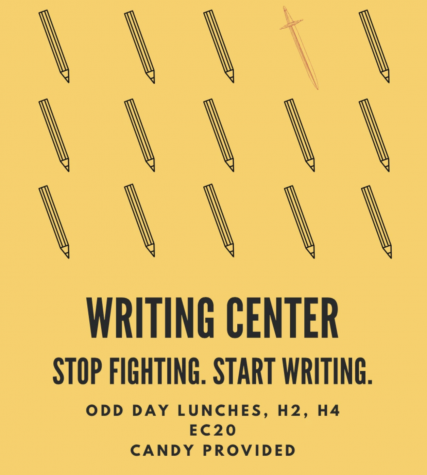 ​
Students have found the new addition to campus a helpful resource when they need advice on English papers. "I found it helpful. I was able to get help with my pre-writing which made the writing process easier. I would go back again," said Crystal Z. '23.
The Writing Center hopes to provide a place where students can feel comfortable discussing their ideas, which can be a very vulnerable experience. "We really just want to provide a place that changes the culture a little bit of asking and receiving help, which can be really hard. Having a comfortable, non-threatening environment with conversations that don't have the pressure or strings attached that other conversations have is very important," said Ms. Stevenson.
Writing Coaches must go through a specific training process.  Last year, applications were announced for the upcoming Writing Center, and after submitting a resume, essay, two recommendations, and answers to questions, 11 students were accepted into the program.
During the first few weeks of school, the coaches learned what writing centers were and the importance of them in a school community.  As part of their training, the coaches helped out freshmen during their study halls to get more experience. "It was a little nerve-wracking because you're helping somebody with their writing, which is a big responsibility, but I'm really glad that we did experience-based training because we got a better feel for how to help," said Liv B. '21, a writing coach at the center.
The coaches are constantly discussing a variety of issues and how to deal with them, enabling them to use their advice in their own writing, so the Writing Center benefits the coaches as well.
In terms of the help that is provided, the coaches don't edit a student's paper but instead have discussions about the text, close reading, and go over any ideas a student may have. "I really like having the opportunity to learn with other people because I always come out learning something about writing, or that person, or just how other people's minds work," said Liv.
Other writing coaches at the center described why they decided to join. "I think it's a great resource to have on campus and a good way to get students together in a creative environment for ideas," said Shania B. '21, another coach at the center.
Ms. Stevenson also discussed the positive outcome of the writing center. "I think we feel so proud of all the work the coaches are doing. Something Mr. Raines and I are really really encouraged by, motivated by, moved by, is that [coaches] will come in when it's not their scheduled time if they can see that it's really slammed. Knowing that the coaches recognize the need and are giving up their own extra time to come in is kind of incredible," said Ms. Stevenson.
In the future, the Writing Center hopes to incorporate coaches who can help students with foreign languages, including Spanish, Mandarin, and Latin. The center also hopes to have more time where they are open and more coaches to help out.
The Writing Center is open during odd day lunches, H2 and H4, and advertise provided snacks and a couch for a more comfortable environment. No appointments are needed. For more information, contact Ms. Stevenson or Mr. Raines.
Leave a Comment