Microsoft Teams Video Presence Raises Questions of Privacy and Distraction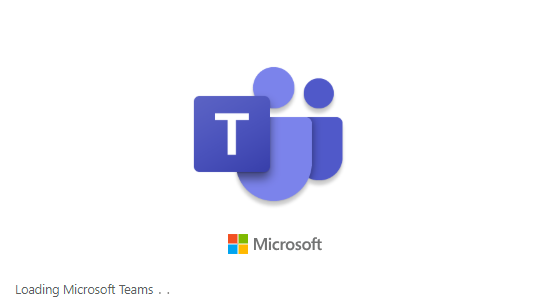 When students and teachers join their online classes each morning, they are greeted by a mosaic of faces and backgrounds. Microsoft Team's video feature helps foster discussion and connection, yet questions of privacy and safety have emerged for students. Will classmates judge my home? Do I look okay? How safely will class recordings be stored and for how long? Are classmates screenshotting me? 
These questions can inevitably lead to additional stress and distraction for students.
Privacy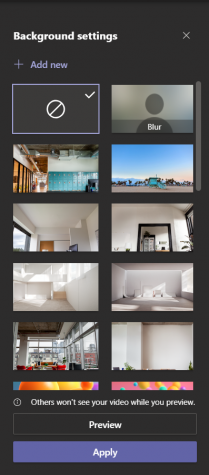 To best replicate an in-person classroom experience, students have been asked to turn on their cameras, which helps create engagement in class discussions. However,  because students can see directly into their classmate's homes, this request can come with some privacy issues. 
Background features, including a blur option and digital images, are commonly used, yet privacy concerns still arise. "Some students I know are having class in their closet because that's the only place in their house where they have some privacy," said Dr. Lisa Carruthers, Director of Counseling and Student Support. "It becomes a distraction because we can see so much of our peers' private lives. Like we're in each other's homes versus just being in a classroom together."
But some students also enjoy the opportunity to show their workspaces. "I think that it is fun displaying my room as my background," said Kanon I. '26.
Students can also pin their classmates' videos without their knowledge. This pinning option allows anyone to zoom up close to another person's video. "My friends can pin me, and then they can screenshot my pin, and make me their background, and then I'm like this huge head in the middle of the screen. I don't like that," explained Anna K. '24. 
Yet, several students also use the pinning tool to highlight their teacher's video and better focus on class material. "I know that the pinning tool is really helpful if you want to pin someone's screen or face or the teacher," said Anna.
Seeing Your Own Video
"
My eyes just keep drifting back and it's like: 'Do I look okay on camera? Do I look good?'"
— Izzy S. '24
For others, the ability to see oneself in the bottom right corner of the Microsoft Teams screen can generate stress.
"My eyes just keep drifting back and it's like: 'Do I look okay on camera? Do I look good?'" Izzy S. '24, shared.
"I think [seeing my video] really bothers me because when you're actually in class at Westridge, you know you're not really ever focusing on your appearance," explained Abby L. '23. "Maybe they could make it so teachers can see you, but you don't have to see yourself or classmates don't have to see you."
According to cyberpsychologist Dr. Andrew Franklin, people tend to look at their own camera because it helps one cope with the social overload of online calls. The difficulty of reading facial expressions and body language cues over the screen can be overwhelming and straining, so focusing on oneself is helpful.
Some students have tried placing a sticky note over their video reflection to eliminate the distraction of seeing themselves while their classmates and teachers can still see them.  
Dr. Edye Udell, an Upper School Science teacher, asked many of her Honor Chemistry sophomores how being on video affected them. She found that more than 95% wanted to keep cameras on, citing how cameras keep them engaged and paying attention in class. However, for big meetings like assemblies or town meetings, most felt otherwise. She explained, "Everyone I asked that question, except for one person, said that they felt that in the big arenas you shouldn't have to have the video on. For me, I think often that not having the visual to think about and just to listen is actually helpful." 
Sarah Simon, Westridge's Human Development Coordinator, is both a teacher at Westridge and a student at a graduate program over the weekend. "I know that when I have professors who let me have my camera off, I feel much less stressed and that actually helps me learn better. But I also know that sometimes the accountability of having my camera on helps me to stay focused and present. I do see both sides and think that each school, teacher, and student have to do what's right for them."
Recording Classes
"It freaks me out. Everything you do, all the facial expressions you make, are now archived. That scares me a lot more than just having people see me," shared Jessica T. '22 about classes being recorded. "Participating is part of your grade, yet I don't always feel comfortable putting out personal stories when I know they're going to be archived."
Microsoft Teams meeting recordings are stored for 21 days. They can be viewed and downloaded anytime within those three weeks. Microsoft's privacy policy states that they will not collect students' personal data or build a personal profile of a student.
However, a Microsoft work or school organization has the ability to: "Access and process your data, including the interaction data, diagnostic data, and the contents of your communications and files associated with your Microsoft product and product accounts," continued the privacy policy.

One UCLA professor, John Villasenor, explained in an essay from The Chronicle of Higher Education why he chose not to record his spring semester classes. He analyzed how many students today are digitally surveilled almost constantly—through phone location trackers, internet search histories, and personal data collection. "A highly interactive classroom should be a space beyond the reach of the digital panopticon."
Villasenor acknowledged the advantages of classes being recorded. For example, if a student misses a class, they can easily catch up by watching the class's recording. But he added that the recordings can negatively impact students' comfort with participation "as things they say can be taken out of context and potentially used against them." He concluded, "The convenience of having an archive of recorded class meetings is more than outweighed by the costs of a diminished learning environment."
Ms. Simon records most of her Human Development classes and makes sure to notify students of this at the beginning of each class. However, for a class involving Open Session, students usually discuss more personal or sensitive topics. "I think it would be appropriate to skip recording [for these discussions] so that students can focus on the discussion and not worry about anything else," explained Ms. Simon.

Dr. Udell doesn't usually record her classes, but when she does, she recognizes the impact on her own teaching: "When I do record them it doesn't bug me too much, but I definitely get a little awareness of myself. I feel like I have to be more formal, and I can't just kid around as much because the recordings are archived."
The tension between requesting student participation and respecting student privacy is something Dr. Carruthers encountered in a Parent Ed class she taught. Her decision to not record the class was intentional.  "I was asking parents to participate and share and talk about some of the stressors they're experiencing right now, and I didn't want them to feel that it would live on beyond them and anybody could watch it."
Connection and Community
Despite concerns, many students appreciate the video feature and enjoy seeing their classmates during class. During last spring's remote learning, most students kept their cameras off, creating a greater sense of isolation. Talking to a screen of icons and listening to disembodied voices made it harder to connect and have class discussions. "I like seeing other people because it gets very lonely online sometimes. And last year during the spring, it got really lonely," said Jessica. "It's definitely hard not seeing anyone in person and now not seeing anyone virtually."
"
Just because having cameras on is hard, it might not be a bad thing."
— Dr. Carruthers
Having cameras on can also foster a feeling of community.  "One thought that I have is that it's hard to build a community and feel like you're a part of something when you can't see the people that you're in the classroom with," offered Dr. Carruthers. "This is an opportunity for us to wonder why is it hard for us to look at ourselves on camera, and why is it hard seeing beyond the camera into the homes of other people—what makes that uncomfortable? Just because having cameras on is hard, it might not be a bad thing."
Torry Trust, Ph.D., an associate professor of learning technology at the University of Massachusetts Amherst, told the New York Times that she recommends teachers have a conversation with students about video ethics. "Teachers need to take a proactive role in building a safe space for students…There should be a discussion between themselves and students about when the video is turned on, why video can be important, and whether it is OK to opt out."
Leave a Comment
About the Contributor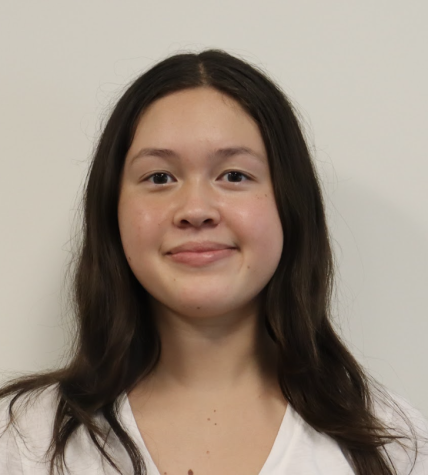 Katie S., Editor
Katie is a senior, and this is her fifth year on Spyglass and third year as an Editor. In her free time, she loves playing guitar, writing, and doing calligraphy.