Quarantined? Try Joining the Trend and Get a New Pet!
During quarantine, bread baking, Animal Crossing, puzzles, and TikTok dances all climbed to the top of a list labeled, "Everything That's Gone Viral During the Pandemic." With more time at home, in addition to baking bread and making sourdough starters, many individuals took on a new role: pet owner. 
According to Petfood Industry, a community of pet-professionals, "Among adults overall, 8% report having adopted a pet specifically because of the COVID-19 pandemic and the resulting stay-at-home period." The rise in pet adoption can be attributed to several factors: pets can relieve stress and provide a distraction from the pandemic.
Students and staff at Westridge also participated in this trend, adopting a variety of new furry friends.

For example, Bellamy S. '24 adopted Paprika and Himiko. "During quarantine, we were like: 'we need cats because this is a really tough time, so let's get cats because they are so sweet!'" With these two new members of her family, Bellamy has something new to look forward to after school ends and when she finishes her work.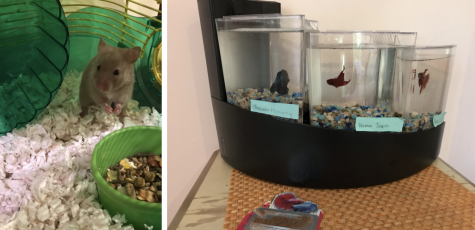 Additionally, Kiera S. '24 and her family agreed to adopt a hamster, Olivia, and three fish, Alexander Moriatary, Norman Jalapeño, and Derek. Kiera's new pets helped make her quarantine a little more enjoyable. However, Kiera's new pets affected her differently: "[my] fish are really pretty to look at, but the hamster is not helpful for stress at all. She is actually more stressful because she likes to escape all of the time. She keeps getting out and opening the door."

Since Isabella V. '24 and her younger sister were little, they have always wanted a pet. With endless time during quarantine, their family adopted a black labrador, Xakal, and Isabella and her sister agreed to take care of the new addition to their family. "He kept me busy and gave me something to do, so I'm not really ever bored because when I have nothing to do, I will go to him. Sometimes he will want to play, and that's fun, but sometimes he'll decide to tear things apart, and that's not as fun, but it gives you something to do when you have to tell him to stop."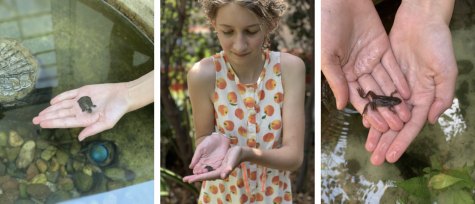 Tessa J. '24, on the other hand, welcomed baby mud turtle, Sheldon, and African dwarf frog, Snoop Frog, to their family. Tessie explained, "[my new pets] definitely gave me a reason to go outside, calmed me down, and gave me something else to focus on." Unfortunately, Sheldon passed away due to the bad air quality, but Tessie still has Snoop Frog to keep her busy.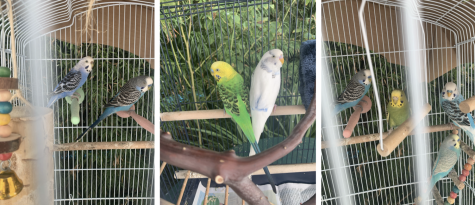 Mili L-M. '24 named her seven new budgerigars after anime characters: Tokoyami, Tsuyu, Killua, Neji, Sanji, Naruto, and Kyoka Hailey. Mili and her family were originally planning on getting one budgie, but upon learning that the pet store was closing, they adopted six more so the budgies could have a definite home. Mili recalled a funny and memorable moment: "[as] the pet store owner was taking one of them out [of the cage] to demonstrate how to clip their flight feathers, the bird started flying around the pet store, and another person that worked there was chasing around the bird with a net."

Like many in quarantine, Dr. Kelly decided that it would be the ideal time to adopt a dog, specifically a bluenose pitbull. Smokie Robinson has kept Dr. Kelly's spirits lifted and entertained. "He has helped me get outside. You get in these ruts where you are sitting in front of this computer all of the time. And then he is able to get me outside for walks and moving and running. Those kinds of things make me happy, bring me joy, and help me forget about a lot of the larger, problematic things."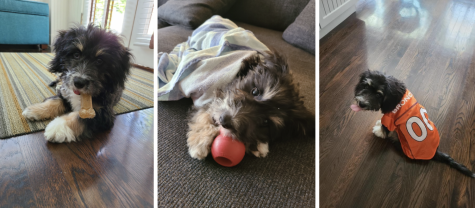 After years of wanting a dog, Amanda S. '26 finally got the perfect bernedoodle during quarantine. Amanda explains the pros and cons of getting a new puppy: "She kind of calmed me down and stuff, but she is also the reason why I get really stressed because I am worrying about her peeing on the floor."

Charlene W. '24 started a new adventure following the adoption of hamster, Clyde. "In the first week or so, he got out of his cage, and he was behind the cage chewing up the wood walls. After that, he got out another time, so I had to put him in the bathtub." Although Clyde did not significantly help Charlene, he did provide some necessary entertainment.

Named after two characters in the sitcom "Community," Troy and Abed were welcomed into Ms. Irish's family. Every morning, Ms. Irish wakes up to someone singing, "Troy and Abed in the morning," because of their rescue dogs' unique names. "Right now, the routine is that they sleep in my daughter's room, and she lets them out in the morning. She brings them in and puts them on my bed, so I get to wake up to two puppies wrestling together every morning, and it really is one of the happiest parts of my day."

Genevieve U. '23 and her older brothers decided to get two kittens, Tucker and Welly, and a baby tortoise, Baldwin. After adopting the new pets, Genevieve's quarantine became more delightful; "They are such a stress reliever and so much fun to be around because everything sucks right now in the quarantined world. Little fluff balls and a cute little tortoise really lift someone's mood."

Maris B. '23 settled with a new dog over quarantine. Maris explains why the trend may have started: "There is a lot of time on a lot of people's hands, well, not everyone — more privileged people have had a lot of time. My family during spring break didn't really know what to do because we were stuck inside. So, during summer break, we decided to get Betti to have someone to play with, and we had the time to train an animal."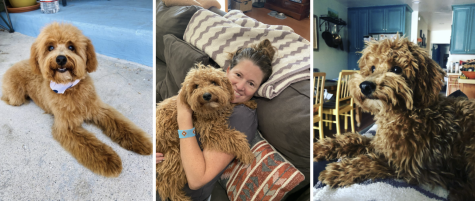 After making a promise to her daughter, Ms. Bizar bought a house along with a miniature goldendoodle, Levi. "He gave us something to focus on, and he gave us something to do: to care for him, to potty train, to feed him, and when he got his shots, to walk him." Like many, Ms. Bizar's quarantine became more interesting and fun with a new pet as a playful distraction.
View Comments (1)
About the Contributor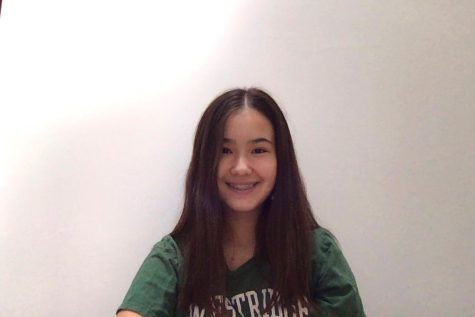 Julia W., Staff Writer
Julia is a freshman staff writer, and she joined Spyglass to strengthen her writing and conversational skills. In her free time, Julia likes to read and...