Quarantine Staff Picks
Westridge students are all experiencing quarantine differently. Some of us are trying to make vegan pie crust, others are discovering classic rock, and many are finally watching Tiger King. If you're looking for a change of pace or are running out of recipes, look no further–the Spyglass Staff has you covered. Here are our recommendations: 
MOVIES/SHOWS: 
Tiger King – Ibby A. '20
This documentary miniseries, available on

Netflix

, follows the crazy lives of big cat zookeepers, including attempted murder. It's guaranteed to keep you on the edge of your couch the entire time. 
Beetlejuice (musical/movie) – Hailey T. '23
Based off the 1988 Tim Burton film of the same name, Beetlejuice the Musical is an absolutely fun and whimsical musical with a jaw-dropping set, and catchy tunes. 
The Platform – Jackie Y. '21
The Spanish film draws inspiration from Don Quixote, centering around the theme of social hierarchy and greed in individuals.
Killing Eve – Caroline L. '21
A dark comedy about British intelligence investigator Eve Polastri (Sandra Oh) and her hunt for the psychopathic assassin Villanelle (Jodie Comer). As the show progresses, the two develop an obsession for each other. 
Dead to Me – Caroline L. '21
This is a series about an unlikely friendship that develops between a recent widow and a free spirit with a game-changing secret. The new season comes out Friday, May 8. 
Scott and Bailey – Mirelle L. '21
This British detective series centers around the friendship between Janet Scott and Rachel Bailey, as they investigate gory murders while navigating their equally tumultuous personal lives.
Knives Out – Sophia H. '21
Based on Agatha Christie's timeless "who-dunnit" novels, Knives Out will leave you speechless at its seemingly endless twists and turns. 
MUSIC/PODCASTS: 
CASE STUDY 01 by Daniel Caesar (album) – Jackie Y. '21
This 2019 album is Caesar's latest, featuring the Canadian R&B singer's soulful melody. It features artists such as John Mayer, Pharrell, Brandy, and Sean Leon.
GIRL (album) – Caroline L. '21
Pharrell Williams' 2014 album GIRL evokes a certain nostalgia with its upbeat, cleverly toned-down and reworked hints of pop. 
Stranger in the Alps by Phoebe Bridgers (album) – Mirelle L. '21
Perfect for anyone who feels like wallowing in their loneliness or just relaxing during some downtime, Bridger's hazy vocals and mopey lyrics will make you feel like crying yourself to sleep (in the best possible way).
Masterpiece by Big Thief (album)  – Sophia H. '21
With Adrienne Lenker's wavering lead vocals,

Masterpiece

lives up to its name, combining her poetry with powerful guitar solos. 
Being Human in Public by Jessie Reyez (album) – Sophia H. '21
Being Human in Public

features Reyez's distinguishably throaty voice, evoking all of the passion and pain she expresses in her album. 
Imposter Syndrome (song) by Rick Clark, London Music Works – Hannah W. '23
This classical piece inserts you into a somber dark world of sorrowful emotions. With a violin solo accompanied by a piano and a string section, you can feel their passion and emotions raging up throughout the piece. 
Symphonie Espagnole in D Minor, Op. 21 1. Allegro non troppo (song) by Edouard Lalo – Hannah W. '23
If you are the type who listens to classical music while studying, you should check out Edouard Lalo's Symphonie Espagnole in D Minor. With a hint of mystery and a taste of tango, it will bring you a calming yet intense sensation. 
The Happiness Lab (podcast) – Katie S. '23
Yale professor Dr. Laurie Santos weaves together scientific research, inspiring stories, and practical tips to explain happiness and how to incorporate more of it into your own life.
Office Ladies (podcast) – Katie S. '23
Jenna Fischer and Angela Kinsey from the hit sitcom

The Office

break down each episode of the show, sharing fun facts and stories along the way.
RECIPES: 
Sesame Ginger Chicken Fried Rice– Emily S. '20
Greek Meatballs and Lemon Butter Orzo– Emily S. '20
Strawberry Jam- Emily S. '20
4 cups of strawberries and sugar and then ¼ a cup of lemon juice 
Put strawberries and sugar in a big pot stir them until boiling
Set timer for 15 minutes and do nothing to jam  
After 15 remove from heat and cool down if when pot is titled jam appears to be setting 
5 Minute Hummus – Katie S. '23
BOOKS: 
Where the Crawdads Sing by Delia Owens – Ibby A. '20
Delia Owens's first novel follows the story of a girl who must learn to fend for herself in the marshes of North Carolina, defying everyone's expectations of her. Beautifully written and full of surprises, this book is an engaging, easy read.
Carry On by Rainbow Rowell – Hailey T. '23
Within the walls of Watford, a school for magicians and pixies alike, Simon Snow, the Chosen one, and his roommate, Baz, don't get along. But when they're forced to work together, things take a turn for the worse. This book feels like a spin-off of Harry Potter, which is a bit cliche, but you know it's good because it's written by Rainbow Rowell.
Illuminae Files Series by Amie Kaufman and Jay Kristoff – Hailey T. '23
Two rival megacorporations go to war on the tiny, ice-covered planet, Kerenza. The story is told through a compilation of recorded chats, interviews and surveillance footage; a documentation of events called the Illuminae Files. Every book in the trilogy focuses on a different pair of characters (a male and a female), set in the same world but with alternate perspectives. This series is a sci-fi space opera type-novel, but it's unlike anything you've ever read before.
When You Reach Me by Rebecca Stead – Mirelle L. '21
Set in New York City in the 1970s, this slightly surrealist story follows, on one level, a twelve year old girl as she struggles with friendship, family, and possibly even romance, but on another level, it's a story that examines what it means to have your universe turned (literally) inside out, and finds the beauty in the things we can't understand.
The Particular Sadness of Lemon Cake by Aimee Bender – Mirelle L. '21
This story explores family dynamics and human emotions through the genre of magical realism.  When 9 year old Rose discovers that she can taste people's emotions through the food they cook, her world changes forever.  If that sounds a bit over the top, don't worry – Bender manages to keep the storytelling extremely grounded, using Rose's journey as a parallel to something we can all relate to – growing up.
Little Fires Everywhere by Celeste Ng – Sophia H. '21
Quiet and predictable Shaker Heights is disrupted by the arrival of Mia and her daughter Pearl, bringing all of the suburban town's underlying tension to the surface. Beautifully pieced together,

Little Fires Everywhere

is a must read. 
Meet Cute by Nina LaCour's – Sophia H. '21
For anyone needing a romantic, feel-good read right now, look no further.

Meet Cute

is a compilation of short stories, each written by a different author, about love at first sight which leave the reader with a warm, fuzzy feeling. 
View Comments (2)
About the Writer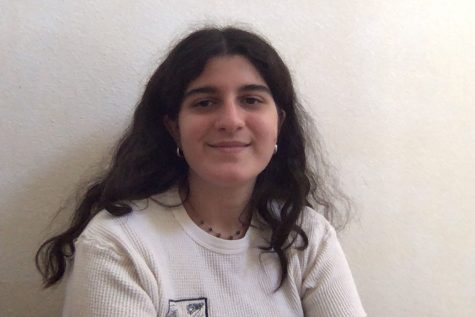 Sophia H., Managing Editor
Sophia is the 2020-2021 Managing Editor of Spyglass and super excited to be taking on the position this year. She's dedicated to building community,...