5 Groceries Stores To Check Out During the COVID-19 Pandemic
Anyone who has shopped for groceries in the past few weeks knows that COVID-19 has created an extraordinary challenge for both grocery stores and customers. In order to prevent the spread of the virus, these  grocery stores are following the mandated safety protocols, such as standing six feet apart in line, disinfecting the carts, and wearing masks and gloves. 
Whether it be a local store across the street or a big global chain, here is a look into a few protocols stores in the Los Angeles area implemented to help prevent the spread while also giving shoppers the opportunity to buy necessities. 
Whole Foods Market
Location: 788 S Grand Ave, Los Angeles, CA 90017
Rating:
-Social Distancing: 5 out of 5
-Sanitation: 4 out of 5
-Protection for Staff: 5 out of 5 
-Total Rating: 4.6 out of 5
One of the busiest grocery stores in Downtown LA is Whole Foods Market. Leading from the entrance, a giant line trails out into the sidewalk, each person six feet apart. Only five at a time can enter in and exit out; as soon as the customers enter, there are two trash bins ahead: one for used gloves and used wipes. Along with the trash bins, extra wipes and hand sanitizer are provided at the entrance.
 A staff member, who wears a face mask and gloves, disinfects the cart before handing it on. As for the cashier line, the shoppers still stand six feet apart and Plexiglass is mounted near the cashier counter to block the register employee and customer contact. 
"I think they are doing everything they can to provide a safe environment for the health of employees and the customers," stated Soo Cho, a resident in Porter Ranch, shopping at Whole Foods. "We as an individual should do our part and follow Safer at Home Orders and Social Distancing Protocol for the safety of everyone."
Trader Joe's
Location: 475 Foothill Blvd, La Cañada Flintridge, CA 91011 
Rating: 
-Social Distancing: 5 out of 5
-Sanitation: 5 out of 5
-Protection for Staff: 3.5 out of 5 
-Total Rating: 4.5 out of 5
Trader Joe's, a shopper's favorite, reserves 8 to 9 a.m. for only seniors and customers with disabilities to shop for groceries. "My neighbors who are super old can go to Trader Joe's . . . before it opens so there's less people and it's safer for them," remarked Charlotte Z., a sophomore at Westridge. 
From 9 a.m. to 7 p.m., it is open to the general public, and the staff members wear masks and gloves while greeting customers or cleaning the handle of the carts. Even inside the store, the six feet distance protocol is followed. Also, similar to Whole Foods Market, a glass piece is placed in front of the cashier stand in between the employee and the customers. However, some cashier staff do not wear gloves when handling the goods, which concerns their health and the product they touched. 
As I walked through the aisles, I observed many shelves empty  of essential groceries, like eggs, milk, produce, and meat, along with  customer's  favorites, such as the roasted plantain chips, dried mango, and the cauliflower gnocchi, were completely wiped out as well. Even though COVID-19 has made grocery shopping a hassle, it won't  stop Trader Joe's shoppers from buying their favorite snacks. 
Smart & Final
Location: 401 N Fair Oaks Ave, Pasadena, CA 91103
Rating:
-Social Distancing: 3.5 out of 5
-Sanitation: 4 out of 5
-Protection for Staff: 4 out of 5 
-Total Rating: 3.8 out of 5
At Smart & Final, a staff regulates the amount of people inside as well as controls the line of people outside. Along with the other local stores, they mandate customers to maintain a six foot distance in lines. When the customers are ready to check out, they stand in one line as a staff guides the shoppers to designated cashier booths. 
Similar to the other stores, all staff wear gloves and masks and clean the shopping carts with wipes and spray before handing it to the customer. The shoppers roam the store decked in rubber gloves and masks.
Costco
Location: 1051 W Burbank Blvd, Burbank, CA 91506
Rating: 
-Social Distancing: 5 out of 5
-Sanitation: 3.5 out of 5
-Protection for Staff: 4 out of 5 
-Total Rating:  4.2 out of 5
Everyone's friendly neighborhood superstore, Costco Wholesale, provides a cart sanitizing machine which disinfects the entire line of carts at once, making it easier on the staff. Along with the other stores, all employees and shoppers wear masks and gloves and the store no longer provides samples to prevent unnecessary contact. All items are pre-packaged in containers.
Due to its size, there are multiple cashier lines in order to check out the customers fast. Unlike Whole Foods, there are not many people, which reduces the amount of traffic in between aisles and increases the amount of food stored. In fact, the store experienced a 60% decrease in customers.
Before the pandemic hit, Costco was always filled with shoppers and the parking lot was packed. But now, the store is scattered with a few customers, and the shelves remain fully stocked.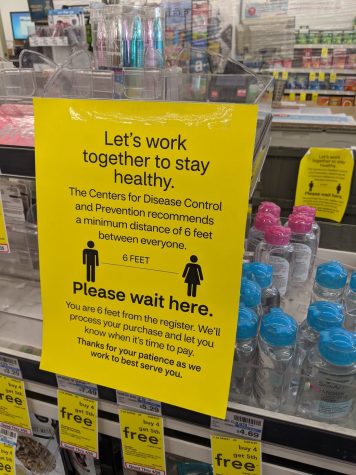 Vons
Location: 155 W California Blvd, Pasadena, CA 91105
Rating: 
-Social Distancing: 5 out of 5
-Sanitation: 5 out of 5
-Protection for Staff: 4 out of 5 
-Total Rating:  4.6 out of 5
This Vons location, across from Huntington Hospital, shortened business hours in order to use 1-2 hours to clean and disinfect throughout the store. Similar to the Whole Foods Market, the staff wipes the handles of the shopping cart. 
Unlike some grocery stores, they offer deliveries and order/pick up services. For pick-up customers, they provide designated parking spots and bring out groceries to their cars. 
In addition, Vons prohibits customers bringing in their own reusable bags, so the bagging employee does not need to touch the bag, preventing any contact.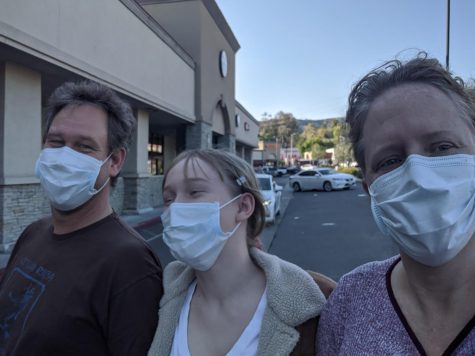 "I appreciate every store that has gone out of their way to provide some assurances—they spray the carts, provide wet wipes," stated Lorri Deyer, Art and History Teacher. "Now, if we could just figure out if people are smiling at us behind those masks, I'd be happy."
Leave a Comment
About the Contributor
Hannah W., Staff Writer
Hannah is a senior staff writer in her fourth year in Spyglass. During her free time, she likes to watch the Dodgers, eat ice cream, and enjoy Tom Hanks...