Westridge Without Walls: The Shift to Remote Learning
School is back in session and it's better than ever… on Microsoft Teams? 
After spring break, Westridge and many schools across the country were disappointed but unsurprised to find that they would not be going back on campus due to the continuously rising rates of COVID-19 cases. Westridge students' inboxes were immediately filled with lesson plans, words of comfort, and one or two video messages from administrators and teachers, beginning Westridge's shift to remote learning.
Monica Sanchez, Computer Science and Technology Integrationist, described this process akin to "drinking water out of a firehose." 
Ms. Sanchez; Sally Miller, Westridge's Director of Technology; and the rest of their team found themselves swamped as it became clear students would not be returning to school after spring break. Ms. Miller explained that they immediately had to assess the problems that students, faculty, and families would be facing. "We needed to make sure teachers would have the resources and support they would need to teach online. We wanted to streamline access to course information as much as possible and make sure we had a great communication plan. We needed to make sure families would have the technology and the tech support required for remote learning. In our planning, we continued our commitment to maintaining security and privacy online which was challenging at times."
EdTech Partners provided an existing solution to some of these problems. The company provides ten technologically able advisors who are each tech mentors to 5-12 teachers. These mentors, according to Ms. Sanchez, "help faculty optimize their use of technology in support of student learning." This system proved valuable as teachers suddenly became entirely reliant on technology to teach their classes.
Gary Baldwin, Director of Upper School, further described some of the issues discussed between the administration and the Technology Department. "We were facing essentially a real-time invention of an entire school experience. When would classes meet, how would students communicate with teachers and each other, what guidance could we give faculty about assessments, curriculum, etc." 
Baldwin explained that these problems were solvable thanks largely to collaboration with the Tech team. "Thankfully, at Westridge, we have such a committed and talented group of faculty and administrators that our pool of resources and insight was deep. We talked and re-talked and floated ideas, and thought through problems. It was maybe the most creative and collaborative professional experience I've ever had." 
Along with administrators and the Tech Team, teachers were faced with the enormous task of adapting their courses to an online format. For the past few weeks, teachers have been trying out Finalsite discussion boards, Dropbox, and discussions over Microsoft Teams. Paul Stephenson, Upper School Choral Music Teacher, has even had students singing their sight-reading over Microsoft Teams. 
Molly Yurchak, Upper School English teacher, reflects the concerns of many faculty members at Westridge about how they would run their classes. "It was difficult to think about how to support my students in reading challenging work as well as I can do in a classroom, and so another part of preparation was just working on my own acceptance of the fact that it won't be the same."
Yurchak, along with other educators at Westridge, worked to adapt their lesson plans to remote learning, with many drawing from resources beyond our community for support. "I'm part of a number of forums, for high-school and college-level instructors and professors, and those who are experienced with online learning all stressed how much would need to be pared down and how much we had to examine what the essential values and goals of a class are. It helped to have that guidance from the start."
Joe Busch, Upper School math teacher, has been pulling from his own experiences online at Northeastern University, The Art Institute, Southern New Hampshire University, and other colleges to run his classes. He echoed Yurchak's earlier sentiment, saying that teaching online is an entirely different and more difficult experience for both students and teachers, but he believes straightforward homework assignments make it a little easier. "I think it's important to recognize that online teaching is fundamentally different from teaching face-to-face. The hardest thing for me is losing real-time interaction with my students. Because it is more difficult for online students to get feedback and clarification, I work hard to try to be transparent about what I expect my students to work on and master. I want them to spend their time learning new mathematical concepts and techniques, not trying to decipher what their assignment is."
For students, online school is a mixed bag. Phoebe J. '21 feels both its benefits and its drawbacks. "I think it's working in the sense that I have a lot more time to do my work and we only have six classes a week in comparison to four a day, which has really just made my life more flexible and has really improved my mental health," she explained. "But I've really felt the loss of human connection, and I think that being around teachers in person really bolsters my academic success."
Sonaya V. '22 reiterated Phoebe's thoughts. "I like the freedom of being able to do work at my own pace and using the time to my advantage. But I am missing meeting with teachers face-to-face." 
Franny C. '22 has enjoyed the opportunity to get work done earlier in the week. "I've been able to get really ahead on everything. I had all my homework assigned on Monday and finished by Wednesday, even though it was due later. It's nice to know everything we need to do for the week so we can have it done instead of having it periodically, so that part I like."
Leave a Comment
About the Contributor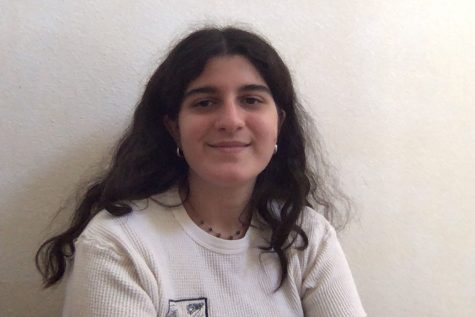 Sophia H., Managing Editor
Sophia is the 2020-2021 Managing Editor of Spyglass and super excited to be taking on the position this year. She's dedicated to building community,...