Guys and Dolls Takes the Westridge Stage
On March 6, Guys and Dolls debuted on the Westridge stage, bringing a less gendered twist to the renowned musical. 
With the PAC stage transformed into New York City circa 1930, the audience was set for a thrilling ride as infamous crapshooters Nathan Detroit (Caroline P. '20) and Sky Masterson (Julia S. '21) stumbled their way through love and a very long crap game, along with Hot Box dancer Miss Adelaide (Jenna H. '20) and Sister Sarah Brown (Amanda B. '21).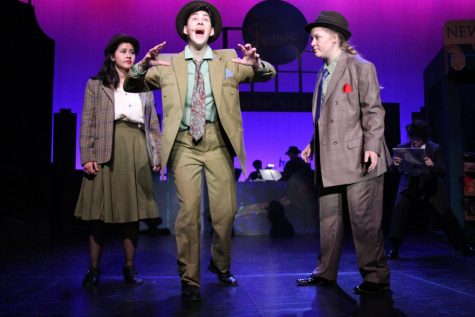 Actors performed the musical's hit show tunes like "Sit Down You're Rocking the Boat" and "A Bushel and a Peck" with infectious energy and all the naivete that left the audience laughing throughout intermission. Sporting New York accents, the cast carried the story with endless enthusiasm and good humor, whether they were dancing in the Hot Box, cha-chaing through Havana, or sneaking to the underground crap game. Hana O. '21, an audience member, found herself enthralled by the production. "You can't help but be pulled into the story by the exquisite set design and incredible acting and singing, and the whole play becomes a testament to all the hard work that went into it." 
Ultimately, the actors brilliantly recreated the beloved classic, but they also succeeded in bringing a new approach, one that Director of Theater, Brandon Kruhm, believed would best fit a modern audience.
"The characters in the show are so unique, the comedy is silly and fun, and the music is truly exceptional. On the other hand, the show is very much 'of its time' in its views on gender and romantic power dynamics. … In traditional productions of Guys and Dolls, men are portrayed as suave, confident, dominant, and charming, while women are portrayed as insecure, subservient, anxious, and naive. In our production, these reductive stereotypes were to be replaced with characters who interacted, shared power, and felt emotions in more nuanced and complex ways," explained Kruhm.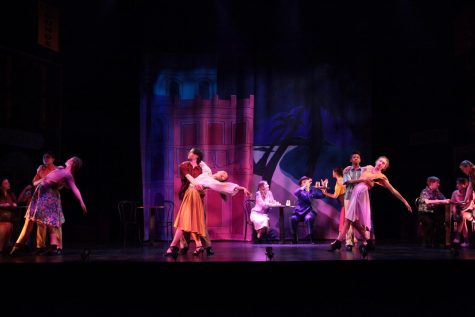 Actors also made significant choices in their performances to give their characters more nuance. Jenna H. '20 worked to achieve this as she played Miss Adelaide, finishing up her Westridge theater career with Guys and Dolls, her 9th and final show. 
"My character is historically portrayed as ditzy and powerless. The whole plot for her is that she's so tired of being unmarried that she's physically sick. Kruhm cut a lot of lines that were blatantly sexist and gross, so that definitely helped, but I tried very hard to make her smart and strong-willed. A lot of people told me it was very different from any performance of Adelaide they had seen, so that makes me happy" said Jenna.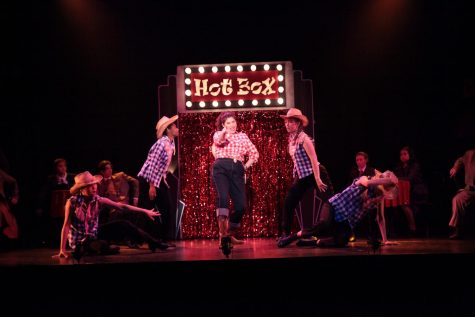 Amanda B. '21, playing Sarah Brown, another prominent female lead, also reworked some stereotypes placed upon her character.
"Coming into Guys and Dolls, I was definitely nervous about how I was going to approach Sarah Brown as a character. In the original source material and other productions I've seen, she sort of just exists as the virgin prude stereotype for Sky Masterson to win over. The main thing Mr. Kruhm and I worked on with Sarah was making it clear that she had desires of her own and wasn't just waiting for Sky to come and sweep her off of her feet." 
Amanda explained that they revised scenes such as Sky and Sarah's first kiss: where in the original script Sky forcibly kisses Sarah, in the Westridge production Sarah initiates the kiss, giving her agency and avoids romanticizing a non-consensual act. "It was changes like this that really brought out the human in Sarah that I felt hadn't been there previously, and turned her into an actual person instead of just some sort of prize for Sky to win," Amanda added. 
This kind of collaboration was a huge part of the process. Between the actors, the Perspectives in Literature class, the directors, the costume design team, the tech crew, and the dozens of others who made the show happen, the show was a team effort. The Perspectives class in particular, as part of a class project, weighed in on possible ways to bring the play into the 21st century without changing the script. 
Kruhm used some of these ideas in the production. He swapped the gender of characters like Benny, General Cartwright, and Big Jule (switched to "Big Julie"), shifting the gender dynamics of the production around by giving women traditionally masculine characteristics and vice versa. Kruhm also accomplished this by introducing the Hot Box "boys" to the production. 
Ultimately, Kruhm describes the show only coming together because of how collaborative the process was.  "The Perspectives in Literature students brought limitless creative thinking to the table about how to reimagine the most problematic moments in the play. I had thoughtful discussions with so many students, faculty, and parents about the value of these stories (and other pieces of art) which can sometimes feel so outdated, but which for some reason we still love. I am so grateful to every person who contributed to the conversation."
Leave a Comment
About the Contributor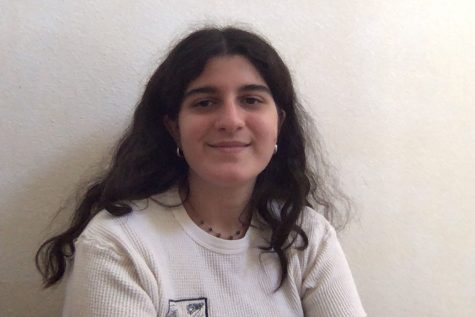 Sophia H., Managing Editor
Sophia is the 2020-2021 Managing Editor of Spyglass and super excited to be taking on the position this year. She's dedicated to building community,...