Westridge Theatre Returns to In-person Performances with the Fall Production of The Continuum Tales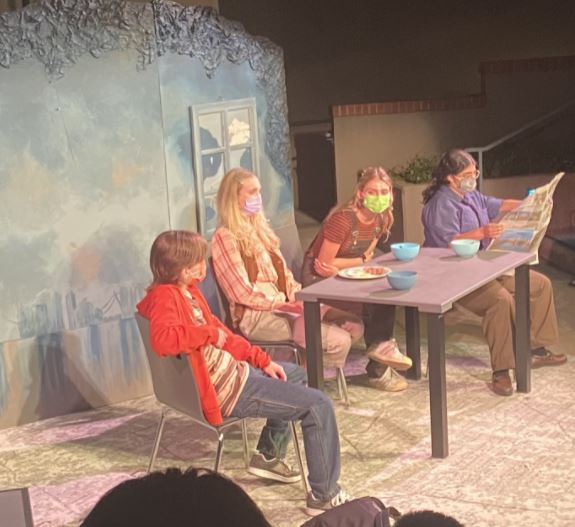 After almost two years, in-person theatre productions have resumed, subject to Covid safety protocols. The theatre department is no stranger to pivoting to meet Covid safety protocols. Last year, the production was performed completely online. Even with the changing protocols, a return to in-person performances comes as a relief, though it hasn't been without its logistical and creative challenges.
With years of performing plays and musicals in the Performing Arts Center (PAC), theatre switched gears and, for the very first time, staged a production in Westridge's Seiter Family Amphitheater in front of a live audience on November 4-6. Although this was a big change, the theatre crew was ready to tackle the challenge. "We're doing the show outside for the first time, and it's something we've wanted to do for a long time, just to try out doing theatre in the amphitheater, but we've never really had something to like push us to do it, so now having Covid to push us to do it, we're really excited," said Westridge Theatre Director Brandon Kruhm. 
Safety protocols might seem like the production's biggest challenge, but time also presented a major issue. Typically, the directors begin planning for the fall play in the spring, but this wasn't an option because no one knew if in-person performances would even be an option in the fall. Once it was announced that Westridge Theatre would reopen and return to in-person performances, the directors began to prepare and search for COVID safe plays in late summer. "If there wasn't Covid, we would start our rehearsals before school even started, and we would start the audition process in the beginning of last year, but we had genuinely no idea what we were going into—if theatre was going to be a thing, if it would be inside, outside. It was a lot of ifs," said Claire S. '23, one of the directors.
"
The big thing I'm most excited for is just being back and doing in-person theatre, it's so nice after a year of doing theatre only through computers "
— Brandon Kruhm
When tasked with the challenge of finding a play that could keep students and adults within the safety protocols, vignettes instantly came to mind. Vignettes don't need everyone to perform or even rehearse at the same time, which alleviated the crowd control issue. "Each vignette only has five actors in it, so we knew we could have smaller groups that were being called to rehearsal every day, and it was something that would work well outside and all those things," said Kruhm.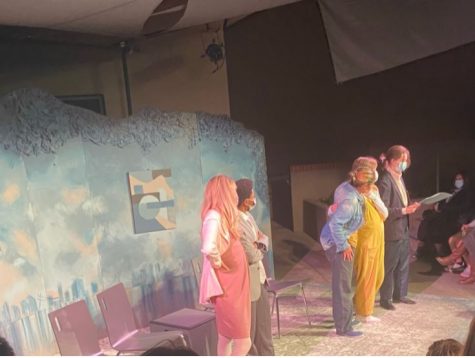 While using the amphitheater for the first time was an adjustment for the actors, it was a completely different experience for the people behind the scenes: the run crew. After taking a break during the pandemic, the run crew returned to its usual backstage roles. Since they went from being inside to outside, they had to learn all the quirks of working outdoors. In PAC, run crew could turn off lights with a flick of a switch and rehearse how to move the sets after each scene. Usually, they could begin rehearsal by 4:00 P.M. Now, they had to wait until dark. "We would set up all the props on the table, and then we would wait two to three hours and then start, so it's a bit crazy backstage," explained Sydney S. '25, a member of the run crew.
Even though the production was relocated outside, the run crew remained inside during the play to stay out of the way of any actors preparing to go on stage. The designated "backstage" of the amphitheater was much smaller and already too crowded with the run crew, actors, and sets. While the actors were performing outside, the run crew waited patiently, watching on Zoom to see when each vignette was over. When the scenes ended, they quickly brought the props out to the stage and hurried back inside.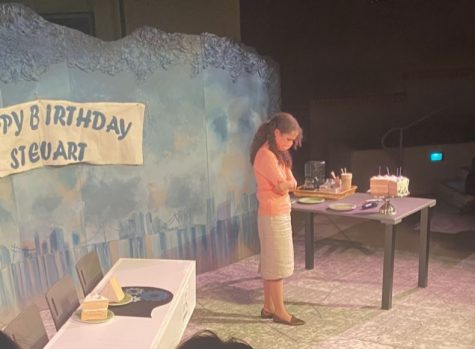 The sound crew also had to make adjustments to return to live theatre. "[My] first time doing sound, I had to do it all by myself, and then we would have to play it through Zoom, so I had all these different applications to make it play, and now it's really cool because we get to play [the sound] in person and so they can actually be heard by the audience and through speakers," said Atalanta C.B. '23, a member of the sound crew.
Actors also had to overcome the challenge of expressing emotion while wearing masks. "They did a really good job of making themselves expressive while also having masks on," said Abby H. '25, an audience member. While acting with masks on might have been challenging, some of the actors used it to their advantage. "There were moments where I was extremely tempted to burst out laughing, but it was fine because I knew I could smile as long as I didn't squint my eyes too hard," said Arden R. '25, who performed in vignettes such as The Pimple, The Birthday and The Happy.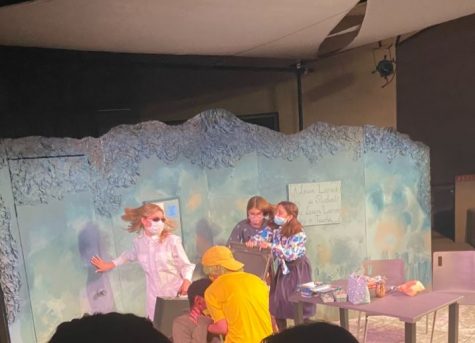 Although Covid forced theatre companies to adapt in some situations, that led to new ideas and creative solutions. Westridge also learned to adapt when theatre productions were completely online. Last year, the teachers decided to step back and allow students to throw ideas around and take charge of the production.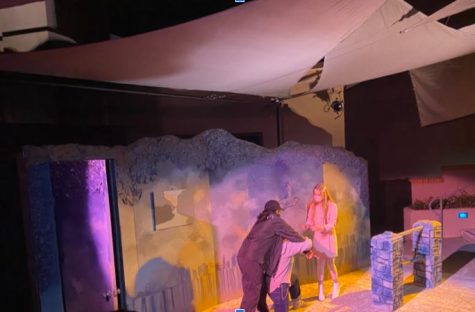 Once they were able to be in-person, student-run theatre didn't end there. This year, two students, Claire S. '23 and Meztli M. '22, had the opportunity to direct this fall. They directed vignettes like The Rescue and The Pimple. "[Directing] was a super collaborative process, but it was also super cool to feel independent to make creative decisions. It was really fun," said Claire. While theatre has had student directors in the past, this year they wanted to make theatre more inclusive and give everyone a chance to try something new and different, especially after a strange year like last year. 
After more than a year of trying to adapt to online acting, theatre is happy to be back in person. "The big thing I'm most excited for is just being back and doing in-person theatre, it's so nice after a year of doing theatre only through computers," said Kruhm.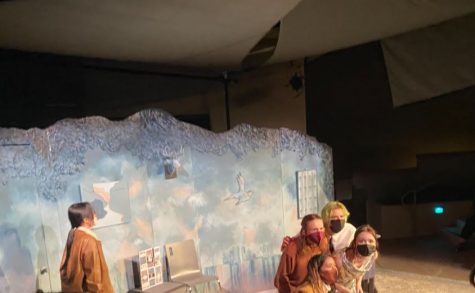 View Comments (5)