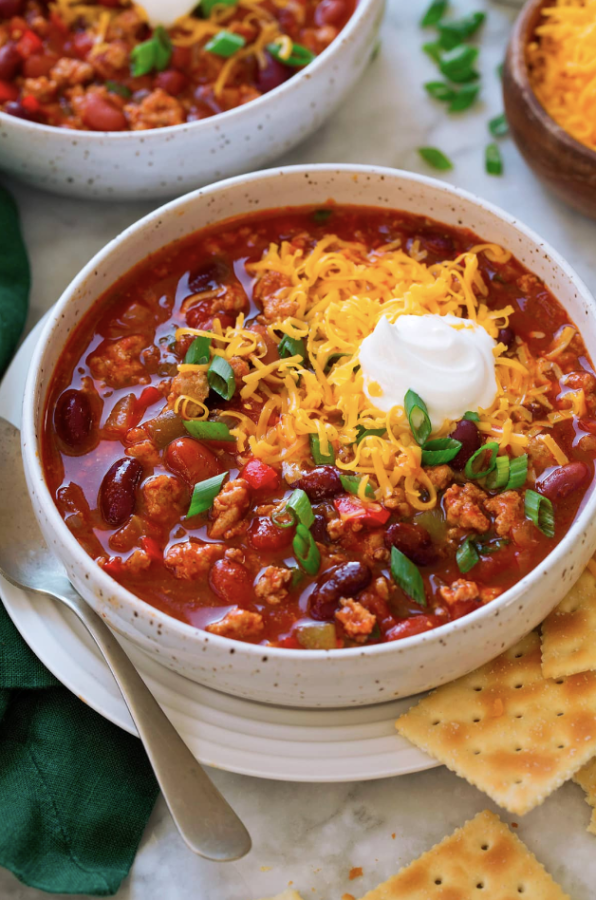 Sarah's Holiday Recipe: Chili
My mom got this chili recipe from a friend, and we've adapted it to our liking. We usually make it with ground beef even though the recipe calls for turkey. It's delicious and easy to make, and the warm chili is perfect during the cold weather!
Ingredients:
1 tablespoon olive oil
2 pounds ground turkey (substitute ground beef if desired)
2 cups chopped onions
2 tablespoons chopped garlic
1 sweet red pepper, chopped
1 cup chopped celery
1 tablespoon oregano
2 bay leaves
3 tablespoons chili powder
2 teaspoons ground cumin
3 cups diced tomatoes
2 cups chicken broth
Salt and pepper (to taste)
2 15-ounce cans of red kidney beans, drained (adjust to liking)
2 cups shredded cheddar cheese
1 cup sour cream
Sliced lime
Procedure:
1. Heat the olive oil on high heat in a large pot and add the ground turkey. Cook for about 5 minutes, until lightly browned, stirring and making sure to break up any lumps.
2. Add the onions, garlic, sweet pepper, celery, oregano, bay leaves, chili powder, and cumin to the pot. Cook for 5 minutes, stirring well.
3. Add tomatoes, chicken broth, salt, and pepper. Bring to a boil and then simmer. Stir occasionally for 15 minutes.
4. Add the beans and cook for an additional 15 minutes. Make sure to stir well! Be sure to serve it garnished with shredded cheese, sour cream, scallions, and a wedge of lime (the dish isn't the same without lime—be sure to add lots of it)!