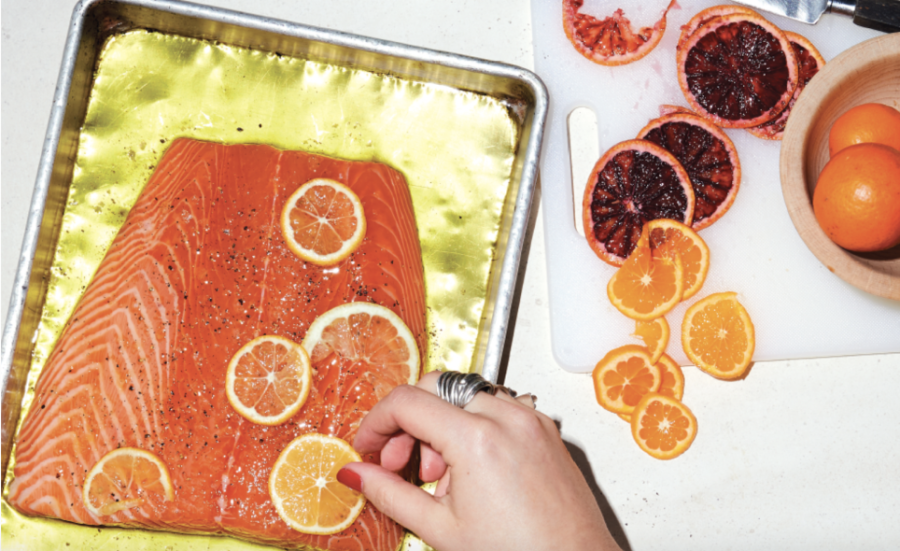 Sylvie's Holiday Recipe: Roasted Salmon
The older I get, the more I realize I should be spending December gyrating to Michael Buble. Instead, I spend most of my December wishing my brain cells didn't ascend to the astral plane at a time when I need them most. It is not holly nor jolly. But this recipe is! 
This recipe takes gyrating to Michael Buble and reimagines it completely. This recipe forces you to ask yourself: What if I were an ethereal wisp of a person, making my salmon with fresh-pressed olive oil and citrus that I picked from my own backyard? This recipe is Fleetwood Mac, sunshine in a Chrome tab, Laurel Canyon in a convertible with the windows down and the butt-warmer on high. This recipe pairs well with ugly sweaters, fun-loving people, and an ephemeral but spirited disregard for anything but "Mistletoe" by Justin Bieber.
There is no tradition attached to this recipe. It simply exists off vibes alone. Also, I personally have never cooked this recipe because I like my kitchen smoke-free and my grub edible. But I will say this: as someone who is deeply suspicious of fish as both a concept and a food, this recipe single-handedly restored my faith in aquatic vertebrates. Tis the season to pull a random recipe off the World Wide Web and force/gently ask your mom to cook it for you.
INGREDIENTS (Recipe by Alison Roman, but the snarky bits are from yours truly) 
A ho-ho-ho attitude and a good playlist 

1 (½ pound) piece of salmon, but Alison Roman has decreed that skinless halibut or cod works well too

Kosher salt and fresh ground pepper 

2 thinly sliced Meyer or regular lemons

1 blood orange, mandarin, or regular orange, thinly sliced (my family takes an any-citrus-goes approach, so while it's nice to have a variety of colors, you'd be fine with just lemons) 

6 sprigs fresh thyme, rosemary, oregano, or marjoram (optional)

1½ cups olive oil

2 cups fresh herbs, such as parsley, cilantro, dill, and tarragon

1 tablespoon fresh lemon juice

Flaky sea salt
DIRECTIONS 
Preheat the oven to 300°F.

Season the salmon with kosher salt and pepper on both sides and place it in a large baking dish (a rimmed baking sheet will also work in a pinch, although the salmon will not quite be submerged) with the sliced lemons, oranges, and herb sprigs, if using. But don't be an imbecile. Use the darn herbs. 

Drizzle the olive oil over everything and place the baking dish in the oven. Cook the salmon until it is just turning opaque around the edges and is nearly cooked through, 20 to 25 minutes.

Toss the herbs with the lemon juice and flaky sea salt, and serve with your salmon. Top it all off with the sonorous sound of Christmas country music and you have a perfect holiday dinner.