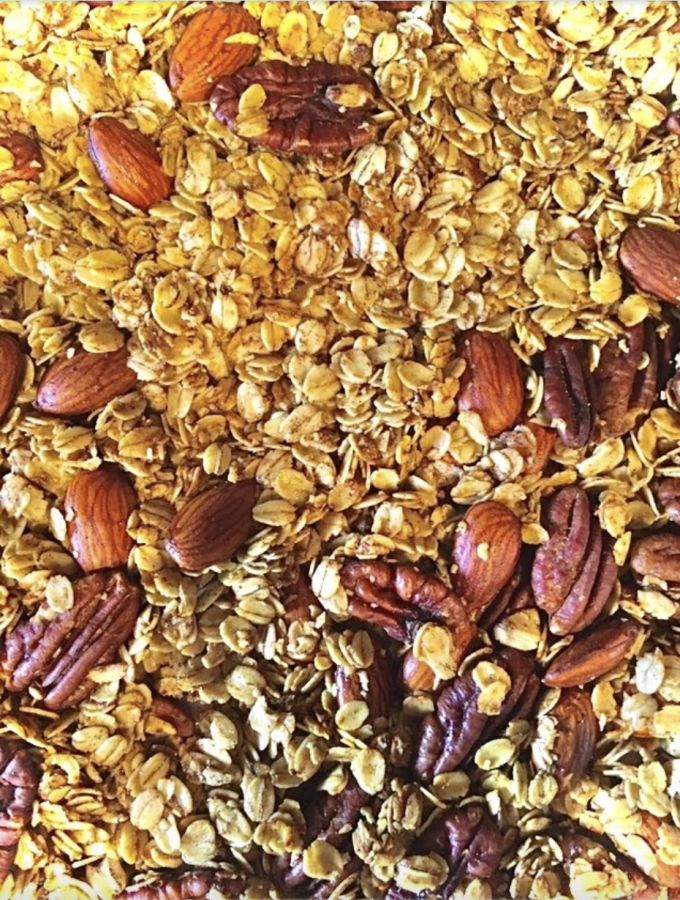 Ilena's Holiday Recipe: Honey-Olive Oil Granola
"When winter break starts and you have some time," my mom informed me, "you're making granola." 
Ever since I invented it during quarantine, this sweet-and-savory granola recipe has been a huge hit with my family… to the point that making regular batches of it has become one of my mandated household chores. What screams "holidays" like the warm tickle of cinnamon wafting through the kitchen air and the Sysephian labor we endure for the people we love? 
Ingredients
Note: I hate measuring, so everything's to taste. 
oats

roasted almonds and pecans, or other nuts of choice

honey

olive oil

cinnamon

pinch of salt

zest of 1 lemon
Instructions
In a bowl, mix oats, nuts, lemon zest, and salt and cinnamon. Coat with enough olive oil and honey to get oats evenly coated and sticky. Ratio of oil to honey can be adjusted to taste! Spread oats onto a baking sheet (preferably on parchment paper to prevent sticking, but tinfoil generally works, too) in an even, thin layer. Bake for 20 minutes, and let cool for half an hour on a baking tray. Use a spoon to scoop granola off tray—it should harden into little tasty chunks. Enjoy!