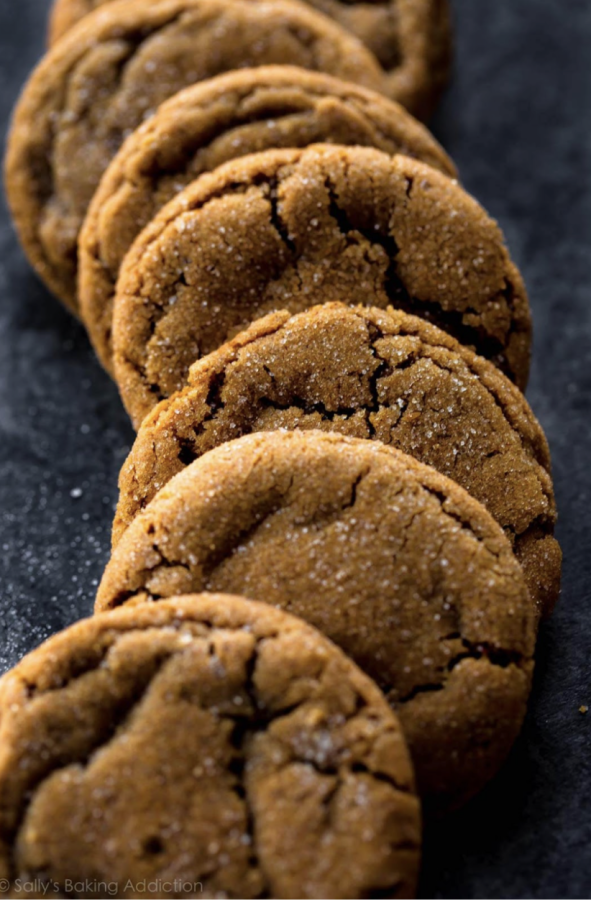 Reed's Holiday Recipe: Molasses Cookies
Each year, I look forward to making molasses cookies with my mom. The warm, chewy blend of ginger, cinnamon, nutmeg, brown sugar—and of course, molasses—in each bite tastes like a comforting affirmation that everything will be okay. Molasses cookies are delicious year-round, but they always taste much more satisfying when the weather has dropped below 75 degrees and you're counting the days until winter break. I use this recipe by Sally's Baking Addiction.
Give this recipe a try, and your kitchen is bound to smell like a cozy, winter treat by the end of it!
Ingredients:
2 ¼ cups all-purpose flour

1 ½ teaspoons baking soda

2 teaspoons ground ginger

1 ¼ teaspoons ground cinnamon

¼ teaspoon ground cloves

¼ teaspoon nutmeg

¼ teaspoon salt

¾ cup unsalted butter (softened to room temperature)

½ cup packed light or dark brown sugar

¼ cup granulated sugar

⅓ cup molasses

1 large egg

2 teaspoons pure vanilla extract
Instructions:
Combine dry ingredients (flour, baking soda, ginger, cinnamon, cloves, nutmeg, and salt) and set aside.

In a separate bowl, beat softened butter and both sugars together for about 2 minutes on high speed until combined into a creamy texture. Add molasses and beat until combined, and then add the egg and vanilla extract and repeat. Scrape down the bottom and sides of the bowl if needed.

Mix the dry ingredients into the wet ingredients on low speed until combined. If needed, chill the cookie dough for 1 hour, and up to 2–3 days.

Preheat the oven to 350° F, and line two large baking sheets with silicone baking mats or parchment paper. Set aside

Roll the cookie dough into balls, using 1 tablespoon per cookie. Then, roll each cookie dough ball in granulated sugar, and place on the baking sheet 3 inches apart from one another. Bake for 11–12 minutes.

Allow cookies to cool on the baking sheet for 5 minutes after removing them from the oven. Then, transfer to a wire rack to let cool completely.

Enjoy!