Gia's Holiday Recipe: Kumquat Jamalade
Every winter, the kumquat tree in my backyard sprouts hundreds of little orange fruits, more than my family could ever finish in a couple months. So a few years ago, my mom decided to start making kumquat "jamalade," or my family's silly name for our not-so-tangy, not-so-sweet cross of a marmalade and a jam. It's always a fun family experience plucking the kumquats into metal bowls with my grandmother and sister and cutting the kumquats with my aunts. If you happen to find some kumquats of your own this winter, this recipe is amazing! But beware: With deliciousness comes patience—lots and lots of patience.
Ingredients:
2 cups prepared kumquats (measure after slicing the kumquats)

Zest and juice of 1 lemon

2 cinnamon sticks

1 cup white sugar

1 cup cold water
Instructions: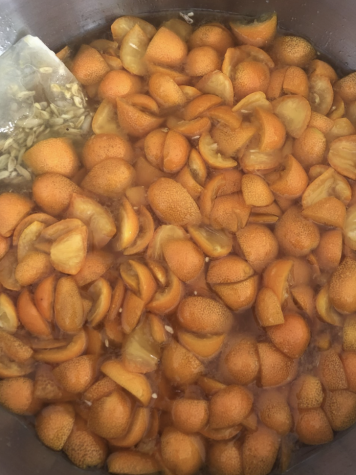 Quarter the kumquats lengthwise. Cut off the white center membrane. Put the seeds aside into a small, food safe bag. You can use a cheesecloth or a large tea bag. Slice into small pieces.

Put the kumquats into a pot. Add the lemon zest (yellow part only), lemon juice, 2 cinnamon sticks, sugar, and water. Mix together. Hang the bag with the seeds into the kumquat mixture. Place the lid on to keep the top of the bag from submerging.

Allow the mixture to rest for about 4 hours. Or you can refrigerate it overnight.

Remove the bag and squeeze as much as you can from it. (You're squeezing out the natural pectin within the seeds which will help the jamalade to set.) 

Place pot over medium-high heat and bring mixture to a simmer, stirring occasionally. Reduce heat to medium; cook and stir occasionally for 10 minutes. Continue cooking and stirring often until the mixture is thick enough so that if you scrape a spatula across the bottom of the pan, you can briefly see the bottom of the pan before the marmalade spreads out again. This takes about 30 to 40 minutes. The mixture is
ready at 215–220° F (120–125° C). Or if you don't have a thermometer, place a plate into the freezer until it's ice-cold. Drip some of the mixture onto the ice-cold plate, and if it congeals, it's ready.

Remove from the heat and allow to cool slightly for about 5 to 10 minutes.

Spoon warm jamalade into sterilized jars. NOTE: The lids will make a popping sound and the middle ofthe lid will be concave once sealed. If
this does not happen, it is not shelf-stable and you must refrigerate the jam.

Cover and let cool to room temperature.

Refrigerate and enjoy!