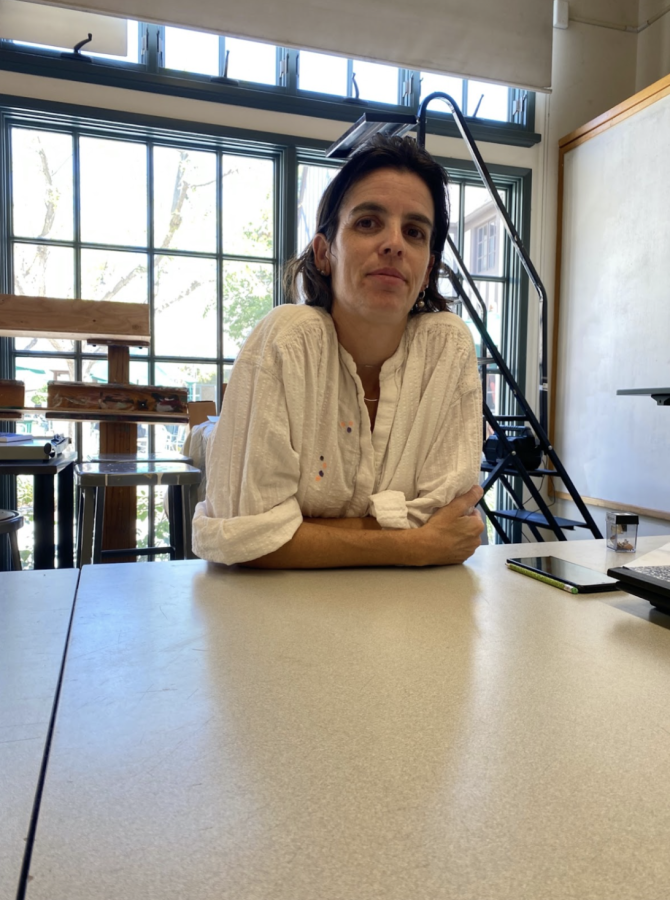 Roni Shnieor: Painter, Ceramicist, and Artist
Roni Shnieor is entering this school year excited about inspiring her students. Ms. Shnieor taught three-dimensional art and ceramics at Westridge at the beginning of last year. She returned in the 2022–2023 school year as the full-time teacher of Painting and Drawing I and II. 
Ms. Shnieor said that the most important goal she has for her students is to find joy in their artwork. "You want to find your way in these instructions and you want to find a way to enjoy it even when you're struggling." 
She plans to achieve her goal through a curriculum that pushes students out of the rigid boundaries that fine arts are usually associated with. Instead of worrying about perspective, proportion, and proper technique, 
Ms. Shnieor instead strives to cultivate an environment of exploration, experimentation, and enjoyment.
Ms. Shnieor's goals for this year all relate to the way she views art, her philosophy, and teaching art. Foundational rules are covered in middle school, and she believes that by the time students are in high school they are ready for fewer limits and more creativity. 
Outside of Westridge, Shnieor enjoys painting with acrylics, and—more recently since her move from Israel to Los Angeles—ceramics. When she first arrived in Los Angeles, Ms. Shnieor did not have a studio, so she found refuge for her creative spirit in a local ceramics studio. 
Ms. Shnieor describes her experience with different mediums to her experience teaching different art classes. "I'm also a professional artist," she said. "I mainly do paintings, but also a lot of ceramics. So it fits perfectly [with] what I teach." She also prefers to stretch her own canvases, a practice she plans to pass on to her students this year. Stretching your own canvas shows a deep commitment and connection to the physical materials involved in the painting process. Ms. Shnieor explained her preference for stretching her canvas: "I feel like when you stretch a canvas, then you can choose the canvas." 
Shnieor believes that to be an artist one must be open to trying new techniques and mediums. "I think I did only one ceramic sculpture before I moved here," she said. "And I was mainly a painter. And I consider myself a painter, and now if you'd asked me, I'd say I'm an artist."