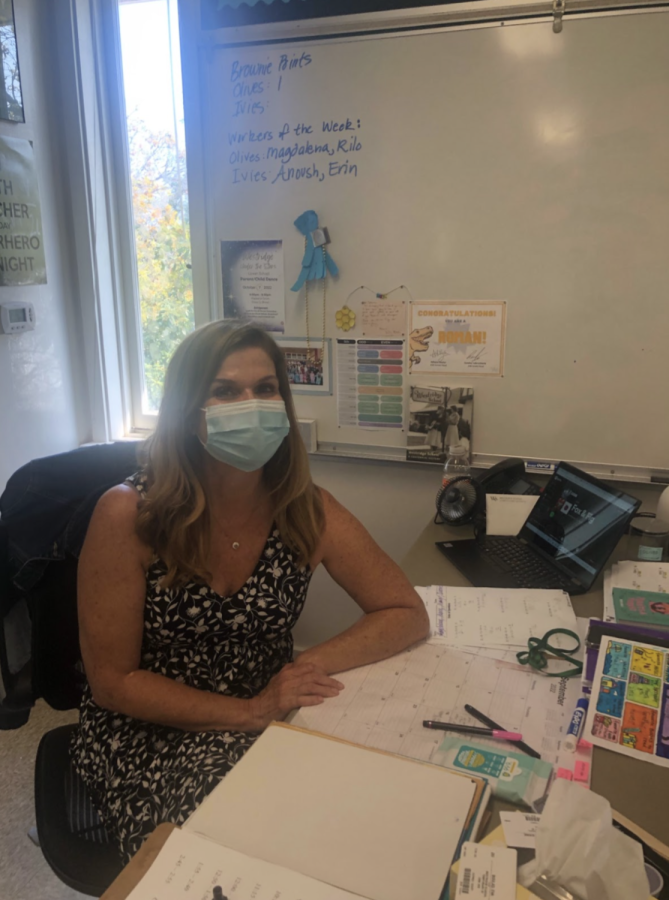 Catherine Streicher: More Than Just a Math Teacher
Surrounded by crystals, plants, and a diffuser, Catherine Streicher welcomed me into her sleek and geometrically-inclined classroom on a Friday afternoon. Ms. Streicher joins Westridge as the new 5th grade math teacher. Her hospitable personality and thoughtful classroom setup immediately made me comfortable, and I easily fell into conversation with her.
Ms. Streicher described her morning as "…this whole, calming, peaceful sort of centering self care routine"—fit with hot lemon water and meditation—before driving to Westridge. Even her classroom aligns with her 'calming' ambiance, featuring potted plants, arranged desks, and a simple color theme. "I want it to be reflective of the students who are learning here," she explained. 
Instantly, when asked about her profession in education, Streicher said, "I'm a late-in-life teacher," and added, "it was not my original career choice." Ms. Streicher hadn't initially planned to be a teacher. At first, she studied journalism at State University of New York College; but, after growing up surrounded by relatives in the education field, she knew that a career in teaching was inevitable. Streicher spent her childhood and early adulthood in the New York area, then moved to Los Angeles around 20 years ago. Her experience as a Girl Scout troop leader and board member of a parent-run math program made switching to teaching "an easy transition…I was so acclimated to the environment," Streicher said.
"
I'm just the cruise director—it's their cruise. "
— Catherine Streicher
Because of her experience from motherhood, Streicher firmly believes in 'class culture' and helping students be the best version of themselves. She incorporated this mentality when raising her own children, as well as learning through other moms' experiences. Streicher described herself as a "whole child educator," focusing on not just academics, but also social and emotional curriculum. "We really want to make it harmonious and peaceful…Those are like my teacher classroom rules," she said. Streicher believes that schools have a responsibility to raise well-rounded students, and that social and emotional learning and support is just as important as academics in an educational setting. 
Ms. Streicher loves being a part of the lower school math department and working amongst other like-minded teachers. "We like math to be discovery-based," she noted when talking about her and Mx. Brownsmith's teaching similarities. Contrary to her previous teaching positions, Streicher teaches math exclusively, rather than a multitude of subjects. "It's a different kind of intensity," she claimed, then continued with a smile: "It's a nice experience for me as a professional to be able to really focus and work on my expertise in delivering math instruction." 
Overall, Streicher is excited to tackle the new school-year and support her students socially, academically, and emotionally. She concluded our interview with her principal guiding philosophy: "I'm just the cruise director—it's their cruise."