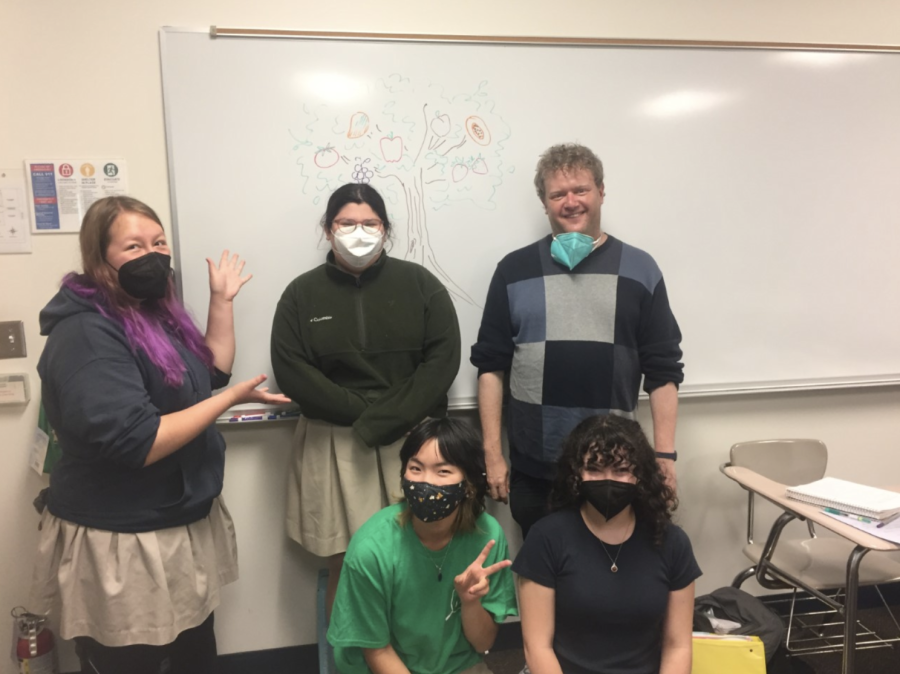 Westridge Says Goodbye to Mr. Libicki
Nineteen years ago, Mr. Eric Libicki, then teaching at Occidental College, came to Westridge to teach a demo geometry class. He considered the lesson, about circles, which he explained by using sugar cookies and a dartboard—a success. But his happiness at the school didn't really sink in until later that day when the Westridge track team happened to run by his office at Occidental. One of the runners, a student he'd met in geometry that morning, recognized him. "Hey! There's my math teacher!" She shouted excitedly to her friends. It was then that Mr. Libicki knew Westridge was the place for him. 
After eighteen years at Westridge teaching nine math classes, one physics class, and creating the school's economics course, Mr. Libicki is headed off to teach high school math at Sequoyah School. 
"Until about a year ago, I thought I was going to retire here. I never thought of any idea of ever being anywhere else but here, and then remote teaching made me think about things in ways that I never thought of before. And that was exciting to me because even though I hate change—I never want anything to change—the idea of being put in a situation where I had to find a way to deal with change intrigued me and excited me in a way I haven't been as excited about in a while," he explained. 
Mr. Libicki's math lessons have brought learning to life with inspirational quotes and get-to-know-you questions on quizzes, graphing aerobics, special lessons on personal finances and ancient number systems, and thematic "motivational examples" that work math into real-life scenarios like buying cars or playing Dance Dance Revolution. But what stands out about Mr. Libicki is how much he cares about his job and about the Westridge community. 
Mr. Libicki was one of the first members of the Westridge community Math Department Head Ms. Leah Dahl met when she started teaching here sixteen years ago. "One of his defining features is how much he throws his whole heart into so many of the things he does, you know, from his epic comments, which are pretty much written in iambic pentameter, to the lessons that have a story arc to them." 
"If you didn't already know, teachers were given a curfew to be on campus last year. Why, you may ask? Mr. Libicki would stay until 2 a.m. grading student homework," said Niko Singband, who graduated from Westridge in 2021. "I had Mr. Libicki for economics, and even though we were online, he made sure to make the class a special experience with things like packets of various materials—including candy—so that we could still have interactive lessons." 
Charisma C. '22, one of Mr. Libicki's advisees, fondly remembers playing jeopardy in his economics class and having a silly string battle on the quad with her advisory. "It is so clear how much Mr. Libicki cares about making learning fun and keeping us engaged. He goes the extra mile for his students—always!!!" 
Mr. Libicki has attended nearly all school plays and sporting events in his time at Westridge. "He really makes that effort to show up not just in the classroom, but in all the ways that support the life of the school and the life of the students," said Ms. Dahl. 
"But there are things that students might not know as much," Dahl continued. "He's famous among the faculty for, whenever he mentors new faculty, he gives these introductions to them to the rest of the faculty that are hilarious and dramatic and weave in all these details of their lives, and sometimes are, like, Game Show style…he tends to be one of the first people to reach out to new adults in the community. He tends to put a lot of effort into maintaining connections, including with people who he doesn't just run into all the time."
Mr. Libicki is grateful to Westridge for giving him two surprise birthday parties, his first opportunity to try Israeli couscous, and the motivation to dress up in creative homemade Halloween costumes each year. "I think three of the things that I love most about this place [are that] it's really neat having colleagues who are teachers, it is really fun that the people I get to work with are students, and there is a lot of academic freedom and independence to be creative in the classroom. And so all of those make it so that, in general, it does not feel like a job; it feels like getting to do something I like doing on a regular basis."