Head of School Mrs. Elizabeth McGregor Is Set To Retire After 13 Years. Westridge Celebrates Her Career and Legacy.
From seven yards away, Mrs. Elizabeth McGregor, Westridge's Head of School, yelled, "Oh come on, Ella, put your back into it!" It was the Night Market, and she was confidently encouraging me while I miserably failed my first attempts at cricket. Every time I swung and missed, she responded in her warm British accent with a "You've got this, Ella!" On my fourth swing, I hit the ball a solid five feet. Not one for high fives, she gave me a double thumbs-up instead. At that moment, I understood the reason Westridge has embraced Mrs. McGregor so positively during her 13-year tenure as Head of School.  
On July 1, 2008, Elizabeth J. McGregor assumed the role of Westridge's Head of School, succeeding Fran N. Scoble. Now, over a decade later, she will be departing from Westridge on that same day.  Since announcing her retirement in November 2020, Westridge has undergone the process of finding her successor and preparing the school for its next steps under new leadership all while celebrating her time served.
Both Mrs. McGregor and community members alike took their chance to reflect on her impeccable 13-year career. 
"
I think you just become wiser and more reflective over the years with the different experiences you have.
— Mrs. Elizabeth J. McGregor, Westridge Head of School
Ms. Julie Ehrhardt, Executive Assistant to the Head of School, has worked closely with Mrs. McGregor during the entirety of her career at Westridge. She said, "I know Mrs. McGregor as someone who makes the most of each second of every day in support of all the things she cares greatly about, one of them being Westridge. Her 'another day, another opportunity' attitude inspires me to do the same." 
Mr. James Evans, Director of Teachers and Learning has known Mrs. McGregor since 2003, back when the pair were still working at The Buckley School in Sherman Oaks. He said, "She's always shown a kind of caring encouragement of other people. I've seen that over and over again. Her emphasis on the whole child of encouraging, nurturing, and creating a culture of care. She combines that with a sharp understanding of how to encourage people and get them to make the most of their strengths. What I've always really admired is that she's able to see the big picture of education, how it shows up in the small details, and how the small details, acts, and decisions can create the big picture of a culture of care in learning."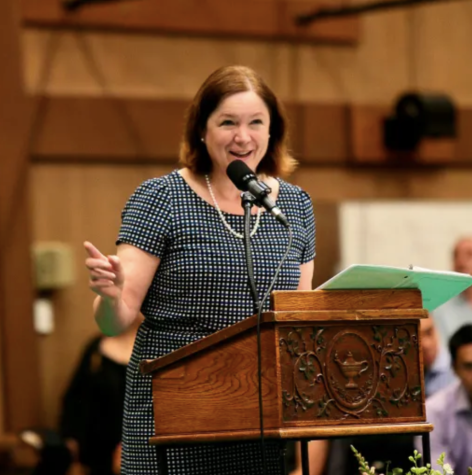 When asked about Ms. Andrea Kassar stepping into the Head of School's role, Mrs. McGregor shared positive feelings toward her successor. "I am thrilled about it. [Andrea Kassar's] excited, and I'm excited for her, and I am sure that she's going to do great things. She really believes in the school. She supports the strategic planning that we've done, is going to move the school into its next chapter, and will put her own mark on it."
Lindsay B. '25 has been at Westridge since 4th grade. "Whenever I see Ms. McGregor on campus, she's always so willing to take the time to interact with the students and ask them how they're doing despite always being so busy," Lindsay said. "She knows each student by name and grade, and I love how much she cares for everyone."
McGregor's willingness to put everything aside for student well-being is truly what has shaped her legacy and what made her such an amazing fit for Westridge.  
Her impact has been felt at an institutional and personal level. When Nitya C. '23 first came to Westridge, Mrs. McGregor reached out to her.  "She always made an effort to go say 'hi' to me. She knew the school that I was coming from. She always tried to connect with me through my hobbies or making small talk." 
Nitya praised McGregor for the role model she has been to her. "She's really been a great mentor and taught me the core values of Westridge by enacting them herself. So you know, inclusion, equality, equity, and diversity. She really does make an effort to be the best Head of School, and I'm really inspired by the way she connects with students."
Much of her emphasis on student-centered care and well-being has been in response to the changing world. She said, "I think that we've increasingly become more aware of the skills and qualities our students need to be resilient and prepared, and this has helped inform our practices.  I think in some ways, the world is a heavier place for students, and we need to prepare them for an increasingly uncertain future."
Under McGregor's leadership, Westridge has advanced its practices in various areas, including its academic program, organization infrastructure, culture, and campus. Notable changes include the infamous 2014 Strategic Plan that focused on expanding Westridge while highlighting student well-being and Diversity, Equity, and Inclusion, the addition of the STEAM lab, construction of the Science Buildings, and Westridge's recent move away from APs. 
Dr. Margaret Shoemaker is one of the only members of the current Westridge administration who witnessed the entirety of Mrs. McGregor's time at Westridge. She said, "She has moved forward so many important initiatives. She really pushed forward our college counseling program, she pushed forward our diversity equity and inclusion program, she pushed forward admission and enrollment management, and so many things that I think is made this school significantly better over time."
McGregor has been a strong advocate for the promotion of diversity, equity, inclusion, and justice (DEIJ). The Elizabeth J. The McGregor Legacy Campaign was started to further the school's commitment to DEIJ. The endowment plans to support professional development, parent education, community outreach events, and more direct financial support for students in need, among many other things. 
Richard Fung, Chair of the Westridge Board of Trustees, & Jill Fung, Westridge Parent Association Volunteer and parents of Angela Fung '16 and Ashley Fung '19 said on the homepage of The Elizabeth J. McGregor Legacy Campaign, "As we watch our daughters thrive at work and in college, we see the impact of the exceptional Westridge program, which experienced significant advances in so many areas under Liz's leadership. Liz has always focused on the well-being of the students, and her elevation of DEIJ work to ensure Westridge is an inclusive educational home for all has been an important part of that. There is no better way for us to honor her legacy than through the McGregor Fund."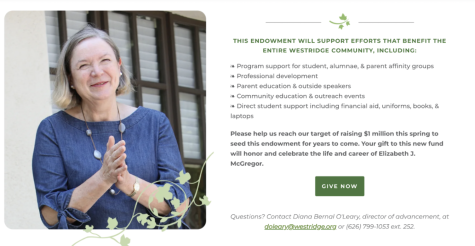 When Mrs. McGregor was asked to share what she was most proud of, she said, "I am proud of building a strong student support team, our increasing focus on STEM, and the ways in which we have not shied away from DEIJ issues, although, of course, there's always more that we can do. Proud, however, is not a word I typically use—I think I'd characterize the way I feel as meeting a need to have made a meaningful contribution that has led to some significant progress. I think that life is always a journey. As an educator, you always should be on a journey with your team to learn about best practices, to be adaptable, and to refine what you do."
Mrs. McGregor has not shied away from many things in her career, and she didn't shy away from talking about her gratitude for Westridge either. "I have been so fortunate and blessed in my life. I have had a career that I love. I'm so glad I came to Westridge. It was a job that I really wanted. It's been fulfilling and really meaningful. I feel as though I've lived a mission-driven life in my career. So it's very satisfying. It's bittersweet, though, because I love what I do, and I'm going to be walking away from Westridge." 
Ms. Andrea Kassar has been working closely with Mrs. McGregor since her appointment was announced. She said, "Mrs. McGregor could not have been better in the transition process. She has just been wonderful, gracious, patient, intelligent, and kind. We have been joined at the hips spending lots of time together both in person and on zoom meeting [together]. She's told me everything she loves so much about this wonderful school and all the things she cares deeply about. I am so thankful that I have had the opportunity to work with her during this transition process, and we've become good friends." 
Ms. Kassar continued, "I'm very excited for her, and I wish her all the best in the exciting adventures ahead. She has left a wonderful school for me to be at the helm, and I'm really excited for me. I couldn't think of a better person to work with in this way."
Though she will be walking away from the Westridge community, Mrs. McGregor and her husband Ian will be headed toward a new vista in Sun Valley, Idaho. Mrs. McGregor will depart from Westridge, of course leaving it in Andrea Kassar's good hands on July 1. Since the beginning of the pandemic, McGregor's access to seeing family has been limited so she plans on taking on the globe, visiting family in New York City, England, and South Africa.
While Mrs. McGregor is ready to begin the next chapter of her life, she will miss Westridge. "I will miss the students. I love hearing about their learning and their dreams. I'm also going to miss my colleagues and the community because I've loved being a part of this Westridge community. Not only the students and my colleagues, but also our parents and our alumni. But it's always the students and their energy that I love tapping into—across all grades. That's first and foremost for me."