White Chocolate Peppermint Macaron Recipe
My family tends to celebrate the holiday season quite unconventionally. We like to bake and cook things that aren't traditionally associated with the holiday season. This is one of our favorite twisted holiday recipes: white chocolate peppermint macarons.
Ingredients:
Macaron Cookies: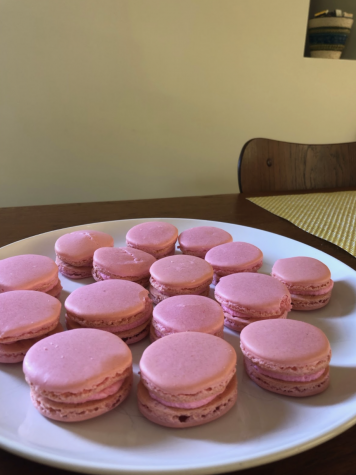 3½ cups powdered sugar
2 cup almond flour
2 teaspoon salt 
6 egg whites, at room temperature
½ cup granulated sugar
1 teaspoon vanilla extract
4 drops pink gel food coloring (Or any color of your choice)
White chocolate peppermint buttercream filling:
2 sticks unsalted butter at room temperature 
12 ounces white chocolate melted (cooled to room temperature)
1 to 1 1/2 cups powdered sugar 
1 teaspoon vanilla extract 
1 teaspoon peppermint extract
Directions: 
1. Preheat your oven to 300˙F
2. Using a food processor, combine the dry ingredients and 1 teaspoon of the salt (excluding the granulated sugar) and process on low speed for about 1 minute or until fine. Sift dry ingredients into a bowl and set aside.
3. In a separate bowl, using an electric hand mixer, beat the egg whites and the remaining 1 teaspoon of salt until the mixture forms soft peaks. Add in the sugar a little at a time with the electric mixer continually on high speed. Once you have added in all of your sugar and the mixture resembles stiff, shiny peaks, you are ready.
FUN HACK!  – If you are feeling dangerous and confident, flip your bowl of egg mixture over your head, if it doesn't spill you are ready!
4. Add vanilla and food coloring of your choice and beat until combined.
5. Next add ⅓ of your dry ingredients at a time to your wet ingredients, using a spatula to gently fold and trying to deflate the meringue as little as possible. This is called macronage. Once you have added in your last third of dry ingredients, your batter should resemble wet sand. If you can drip the batter into a figure eight in the bowl without it breaking, it is ready. If not, continue to macronage.
6. Put the macaron batter into a piping bag. On a lined baking sheet, pipe about 1½ inch circles, making sure to space each cookie apart appropriately. Once you have filled up the baking sheet bang it on the table a couple of times to get rid of any air bubbles. 
7. Let the macarons sit for an hour or so until they develop a skin. 
8. Bake the macarons for 16-17 minutes and until they develop feet (meaning some height)
9. Let them cool completely on a wire rack before filling 
10. Combine ingredients for buttercream filling in a bowl using an electric hand mixer until smooth (2-3 minutes)
11. Pipe a dollop of buttercream on to the bottom of a cookie and sandwich together with another cookie, applying light pressure.
12. Continue with all your cookies and enjoy!