Scallion Pancakes
Jewish people have been eating Chinese food on Christmas since the early 1900s. Manhattan's Chinatown borders on the once majority-Jewish Lower East Side, where the early 20th century's two largest non-Christian immigrant groups spent December 25 sharing cultures at their restaurants, the only ones open on the holiday. My parents don't miss the bad winter weather of their native New York, but they do miss the scallion pancakes which, for some unknown reason, are always miraculously better tasting on the East Coast — not to mention difficult to find out West. We perfected the recipe during quarantine and served them as an appetizer with our homemade Jewish Chinese Christmas feast.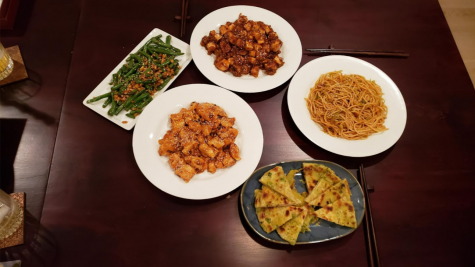 Ingredients
2½ cups all-purpose flour, plus more for dusting your board, rolling pin, and hands
1 cup hot water
¼ cup olive oil
Kosher salt
A bunch of scallions, thinly sliced
Avocado oil, grapeseed oil, or other oil with high smoking point (for cooking)
Instructions
1. Mix flour and hot water in a bowl until combined, then turn out onto a floured work surface. Knead dough until smooth and elastic, about five minutes. 
2. Let the dough rest, covered, for about half an hour to develop gluten. If you're hungry or impatient, skip this step! The pancakes will still taste good; they'll just be more doughy. 
3. Cut the dough into 4 equal portions. Rub a rolling pin with flour, and roll out each portion on a floured work. Go as thin as you can — aim for a circle that can span 3 hand widths across.
4. Brush each circle of dough with olive oil. Scatter the surface with scallions and a sprinkle of kosher salt. 
5. Next, make a snake! Fold each circle of dough into a roll. 
6.  Now, make a snail! Coil the dough into a round (cinnamon bun-style). 
7. Repeat this process individually with all the dough. 
8. Smoosh down the coiled dough and make a circle, just big enough to fit your skillet. Repeat with each portion of dough. 
9. Cook the pancakes by heating a skillet over medium-high heat. Add a small swirl of avocado oil. Place the pancake in the skillet and let it cook for half a minute or so. Brush the top of the pancake with a bit more oil and flip it. Continue flipping and brushing with more oil as necessary every thirty seconds until the pancake puffs up in the middle and crisps. You'll know it's done when it's flaky and browned evenly on each side. Add extra flake factor by grabbing it with two pairs of tongs and squishing the two sides together. Cut the pancake into wedges and serve hot! Yum!