Pumpkin Pie
My family is a box mix cake type of family. Other than the store bought goods that we buy, any 'homemade' goods usually end up being the just-add-water type of treats. However, a few years ago, we decided to repurpose our carved halloween pumpkins and turn them into pumpkin pie. Sometimes we will make multiple batches that last all the way through the holidays. It's a great way to reuse the carved pumpkins and a delicious treat for the fall season. I love spending time with my family making pies (and eating them). Enjoy!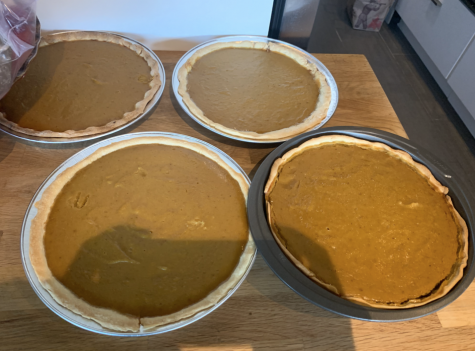 Ingredients
Filling:
2 cups mashed, cooked pumpkin
1 can condensed milk
2 eggs
¾ cup brown sugar
½ teaspoon ground cinnamon
½ teaspoon ground ginger
½ teaspoon ground nutmeg
½ teaspoon salt
½ teaspoon black pepper
Crust (you can also use premade crust):
1⅓ cups all purpose flour
½ teaspoon salt
½ cup shortening
3½ tablespoons cold water
Directions
1. Preheat oven to 400° F
2. If you make the crust from scratch: 
3. Mix together the flour and salt. Cut shortening into flour; add cold water. Mix dough and repeat until dough is moist enough to hold together.
4. Shape dough into a ball. Roll out the dough to about ⅛ inch thickness. Cut dough 1½ inch larger than the pie pan. Transfer dough to the pie pan.
5. In a large bowl, beat pumpkin with evaporated milk, eggs, brown sugar, cinnamon, ginger, nutmeg, black pepper, and salt with an electric mixer. Mix well. Pour into a  prepared crust. Bake for 40 minutes.