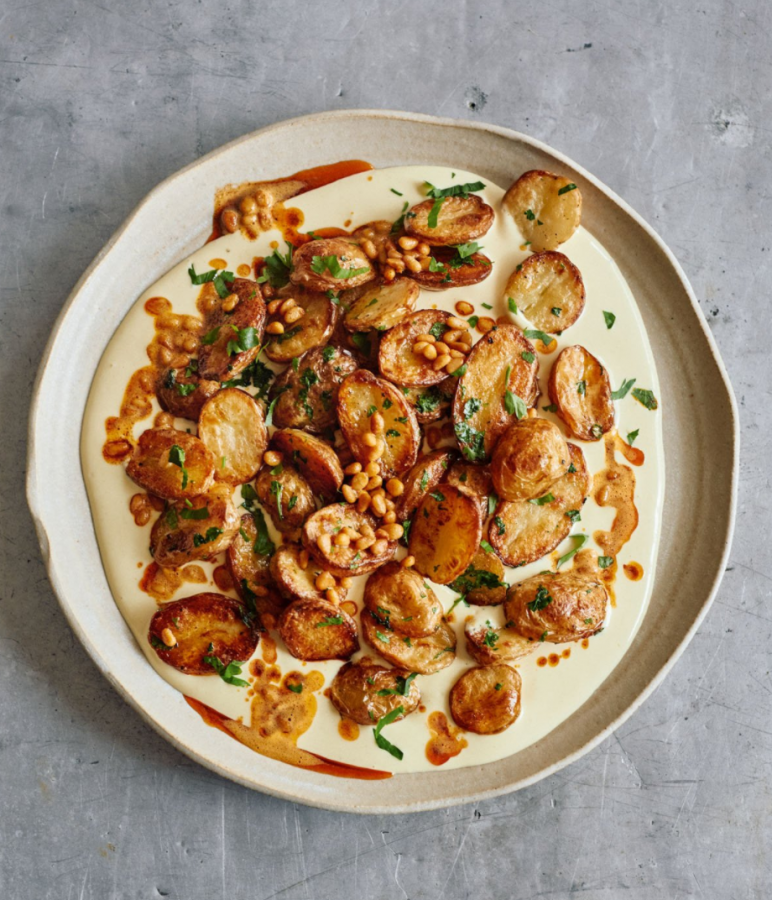 Elena Heatherwick -Nigella.com
Roasted Potatoes with Aioli and Buttered Pine Nuts
My family loves potatoes all year round, but during the holidays, my mom loves to experiment with new recipes that involve using potatoes! My mom made this dish for Thanksgiving dinner this year, and it has become one of my favorites. It includes two of my favorite foods, garlic and potatoes! This recipe is from Yotam Ottolenghi's cookbook, Ottolenghi Test Kitchen: Shelf Love.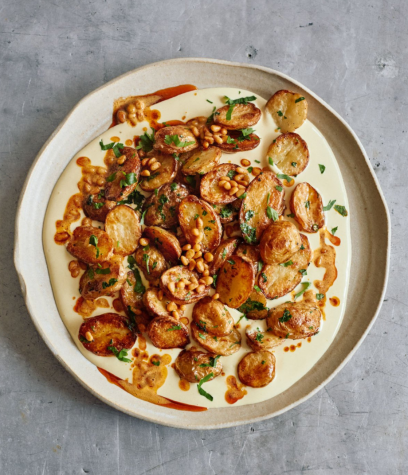 Ingredients:
For the potatoes:
750g baby new potatoes (skins on and halved lengthways)
2 tbsp olive oil
5g parsley, roughly chopped
Salt and black pepper
For the aioli: 
2 large garlic cloves crushed
1 tsp Dijon mustard
1 large egg, plus 1 yolk
100ml olive oil
100ml sunflower oil
1 tbsp lemon juice
75g Greek-style yoghurt
For the Pine Nuts:
30g unsalted butter
20g pine nuts
¼ tsp smoked paprika
Directions:
1.Preheat the oven to 220° C
2.Put the potatoes and 2 teaspoons of salt into a medium saucepan and pour plenty of cold water to cover by about 4cm. Place on medium-high heat, bring to a boil, and then simmer for 5 minutes or until the potatoes are almost cooked through but still with a bite. Drain them in a sieve and pat dry. Then, transfer to a parchment lined baking tray and toss with the oil, 1.2 teaspoon of salt and a good grind of black pepper. Roast, stirring once or twice for 35 minutes, or until deeply golden. Stir through the parsley. 
3.Meanwhile, make the aioli by putting the garlic, mustard, egg, yolk and ¼ teaspoon of salt into the small bowl of a food processor and blitzing until combined, about 10 seconds. With the machine still running, add both oils in a very slow steady stream, until you have a loose, mayonnaise-like consistency. Transfer to a bowl. Stir in the lemon juice and yogurt and set aside (or refrigerate) until needed. 
4.Put the butter into a small sauté pan on medium heat. Once melted, add the pine nuts and cook until golden, about 3-4 minutes. Stir through the paprika, then remove from the heat and transfer to a bowl.
5.Spread the aioli out on a round shallow platter. Top with the warm potatoes and spoon over the buttered pine nuts.